Giant cooling towers demolished
Four giant structures that have dominated a skyline for more than 50 years have been demolished in a series of explosions in front of hundreds of spectators today.
Controlled blasts levelled three 318ft cooling towers and a single 416ft chimney stack at the decommissioned Richborough power station at Richborough in Kent.
A siren sounded and a warning rocket was fired one minute before the explosions to scare off birds and alert spectators watching from beyond an exclusion zone.
Within 20 seconds of the explosives detonating at 9am, the concrete structures were reduced in sequence, one by one, to thousands of tonnes of rubble, ending with the chimney.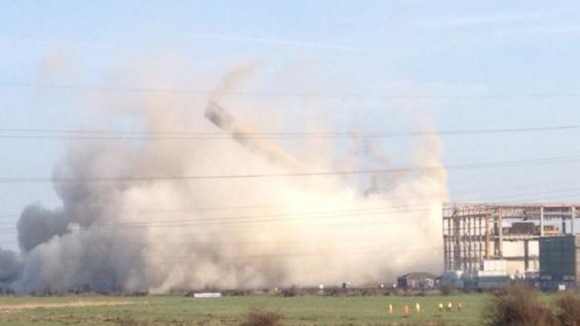 Built by the Central Electricity Generating Board in the late 1950s
Entered service in 1962 as a 342MW coal-fired station
Converted to oil in 1971
Remained largely vacant since being decommissioned in 1996
Some locals had campaigned to keep the towers, saying they formed part of the historical landscape and were used as a navigation point by fishermen.
But their demolition, set off by explosives engineer Holly Bennett, now clears the way for redevelopment of the 300-acre site.
Among those to mourn the destruction of the local landmarks was 83-year-old John Jones who helped build the chimney from 1960 to 1961.
It's sad to know it has gone because it brings back a lot of fond memories of when I was young. It was a sad part of my life as well because my mother died around the same time it was built and the chimney always reminds me of that point in my life. It was the hardest construction job I had ever been on. We worked seven days a week mostly, putting in 10 hour days and sometimes more, for a year.
end of an era.....Richborough Power Station in Kent...blown up after 50 years. breaks my heart :(
#iReallyHateWhen they blow up Richborough Power station towers. A landmark has been lost forever.
They've finally demolished richborough power station. It's so weird driving past and not seeing the towers.