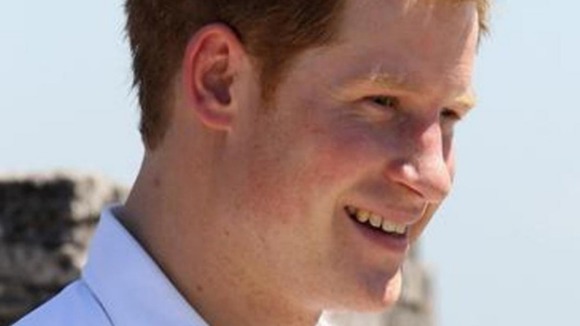 Prince Harry has described his Diamond Jubilee tour as an "emotional trip" that opened his eyes to how fondly Commonwealth nations regard his grandmother, the Queen.
Harry said he was "choked up" by the way the countries he visited were celebrating the monarch's 60-year reign.
"I tell you what, it's been an emotional trip.

"I'm absolutely exhausted but the warmth of the reception that we've received from every single country that we've been to has been amazing.

"I personally had no idea how much warmth there was towards the Queen, to me that's been very humbling, and I was actually quite choked up seeing the way that they're celebrating her 60 years.

"She's thousands of miles away to some of these countries and yet they celebrated her in the way they did, and made me feel so welcome, so I couldn't thank them more."
Prince Harry was speaking after a polo match in aid of his charity Sentebale, which helps orphans and vulnerable children in Lesotho, South Africa.
It was staged in Brazil, where the royal has been visiting to promote Britain.
The 27-year-old Prince also revealed he had set off for the seven-day tour with a ringing endorsement from his grandmother who told him "enjoy it, I hope you do me proud".
Summing up how he approached his first solo tour on behalf of the Queen, the Prince said:
"You can't sit there with a stiff upper lip and not get involved.

"We knew how fantastic these countries would be, I've never taken myself too seriously. I've had a gas."
In Belize, the royal enjoyed a Diamond Jubilee street party and was swept up by the genuinely warm welcome from the locals that saw him dancing with performers, tasting local food and even downing shots of rum.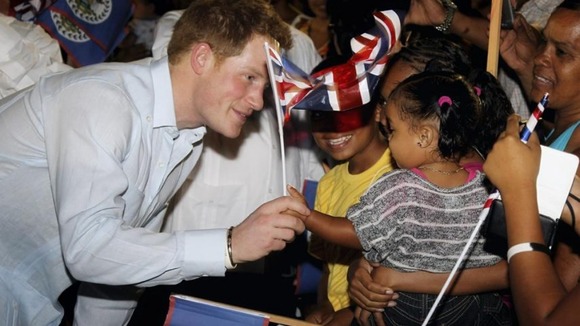 The Bahamas gave Prince Harry the chance to formally honour the Queen with the rest of the Commonwealth country at a national service of thanksgiving for the monarch.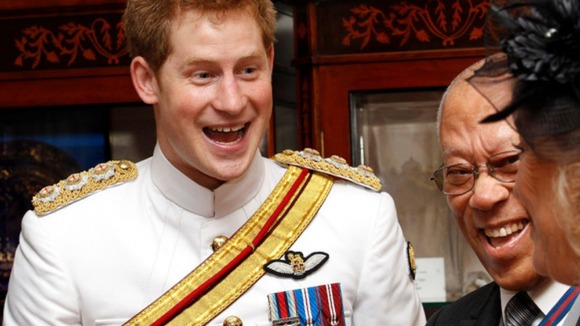 In Jamaica, Harry charmed the country's staunchly republican prime minister Portia Simpson Miller, who plans to end centuries of formal ties with the British monarchy and replace the Queen as head of state with a Jamaican.
When questioned about hugging Mrs Simpson Miller, who appeared to have taken to him, Harry replied:
"She hugged me. She did ask, she loves hugs, she hugged my father too.
"We just had a very nice chat, having had a fantastic time in Jamaica and all three countries."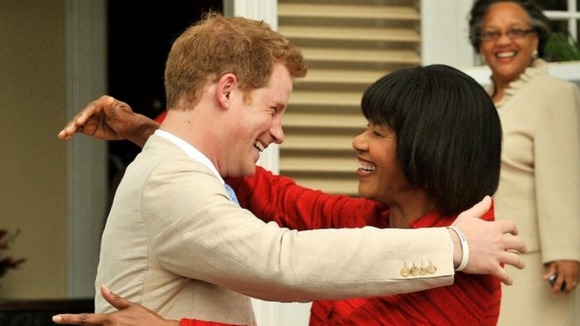 He also a meeting with on the race track with Olympic gold medallist Usain Bolt during a visit to the University of the West Indies in Kingston.
Harry revealed he had been planning his subterfuge against the Bolt, which saw the royal distract the world's fastest man and "beat" him in a sprint, for quite a while.
He said: "About five days to a week before. I was thinking to myself, whatever it is, I'm going to catch him and catch him when he's off guard - he thought about taking me on, but he's a bit slow."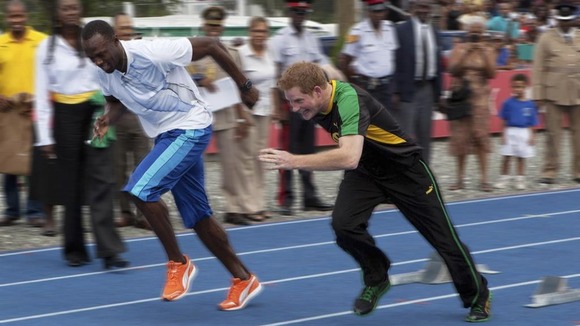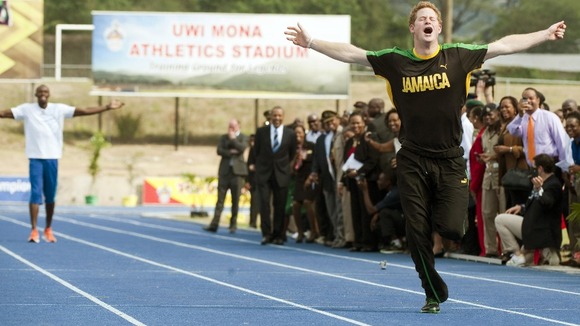 A pair of bright blue suede boots that Prince Harry wore during the trip got a lot of attention.
He later said of the footwear:
"The blue boots, Jamaica is Jamaica, it was the time to bring them out. I was fighting the urge to bring them out earlier, but knowing I was going to meet Rita Marley, it was the time to bring them out."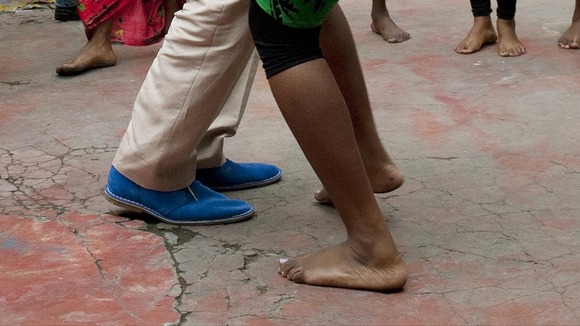 The royal's humour has been a constant presence throughout his Diamond Jubilee tour.
The latest example of the prince's light-hearted side saw him wearing a Duke of Cambridge face-mask when he took part in a Sport Relief Mile run on Saturday in Rio de Janeiro.