Flintoff breaks 12 world records for Sport Relief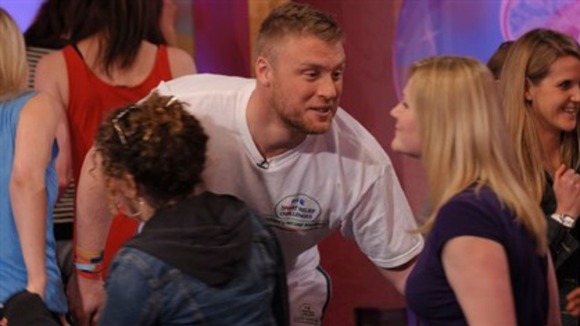 The former England cricketer Freddie Flintoff succeeded in setting 12 world records as part of a challenge for Sport Relief challenge.
His challenges have included trying to wrap This Morning host Holly Willoughby in newspaper in record time. The aim was to beat a time of 3mins 7secs.
He struggled to find the end of the roll of sticky tape, costing him valuable seconds.
His final record was throwing a bullseye from the furthest distance on a standard dartboard.
During the day Freddie also popped into Loose Women for their help with breaking a world record for the most kisses.
Freddie was also joined in Hyde Park by cricketer Steve Harmison who helped him to try to break the 100m in a pedalo record.
His record attempts also included bungee jumping, doing three-point-turns and zorbing.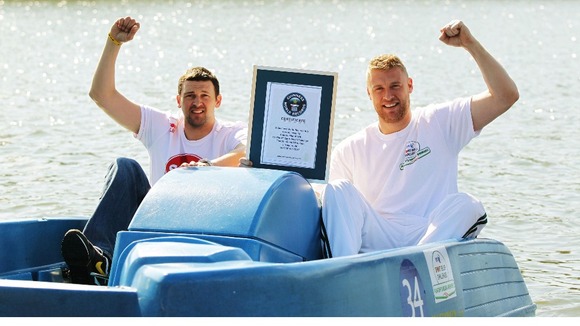 Freddie's Twitter feed gives a humorous insight into the the ups and downs of his record breaking day:
The full list of the 12 records Freddie broke are:
Most cricket deliveries faced in one minute (19)
Fastest time to high-five 20 people blindfolded (in 6.53 seconds)
Most people popping party poppers (420)
Most peas eaten with a cocktail stick in 30 seconds (38)
Most kisses in 30 seconds (40)
Fastest time to drink a hot chocolate (5.45 seconds)
Fastest 100 metres on a pedalo (1 minute 58.62 seconds)
Most Facebook likes in one hour (52,719)
Fastest zorb over 100 metres (26.59 seconds)
Fastest 3 point turn in a car (14.01 seconds
Most hot dogs made in 1 minute (9)
Longest bullseye throw (5.05m)