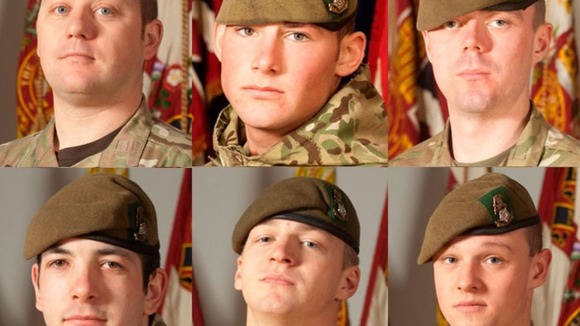 The bodies of the six soldiers killed in Afghanistan - the biggest single loss of life that UK forces have sustained since the conflict started in 2001 - have been repatriated.
The soldiers were: Sergeant Nigel Coupe, 33, Corporal Jake Hartley, 20, Private Anthony Frampton, 20, Private Christopher Kershaw, 19, Private Daniel Wade, 20, and Private Daniel Wilford, 21.
They landed at RAF Brize Norton before their cortege passed through Carterton, Oxfordshire. ITV News Correspondent Paul Davies reports from Carterton:
Families and friends of the soldiers - five from the 3rd Battalion The Yorkshire Regiment and Sgt Coupe from the 1st Battalion The Duke of Lancaster's Regiment - have travelled to Oxfordshire to pay tribute to the fallen soldiers.
The soldiers were killed when an improvised explosive device hit their armoured Warrior vehicle in Helmand Province on March 6th 2012.
Today's repatriation will be the largest ever seen at Brize Norton since it took over from Royal Wootton Bassett in welcoming fallen troops home.