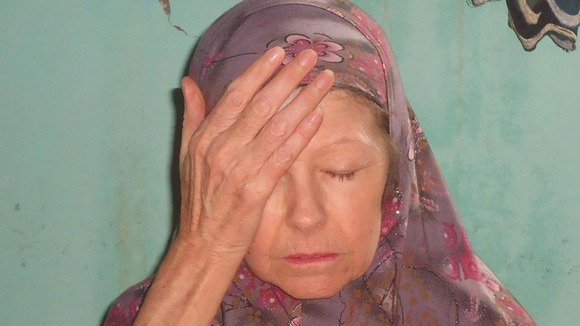 A British woman kidnapped from a resort island on the Kenyan coast did not know that her husband had been killed for another two weeks.
That and other details of Judith Tebbutt's psychological ordeal were revealed today after she was freed following more than six months in captivity. A ransom was reportedly raised by relatives.
Our Africa Correspondent Rohit Kachroo sent this report from Nairobi in Kenya.
The 56-year-old was snatched from the remote Kiwayu Safari Village, close to the border with Somalia, last September by a gang who killed her husband David, 58.
She said in a separate video broadcast by the BBC that she learned of her husband's death through her son:
"He was a good man. That was very unfortunate, really horrible. But you just need to pick up the pieces and move on.

"I didn't know he'd died until about, I think it was two weeks from my capture. I just assumed he was alive, but then my son told me he'd died. That was difficult.

"And it must have been hard for my son as well, very hard, and he's been fantastic, he's been absolutely fantastic, I don't know how he secured my release, but he did, and I'm really happy, I can't wait to see him, really."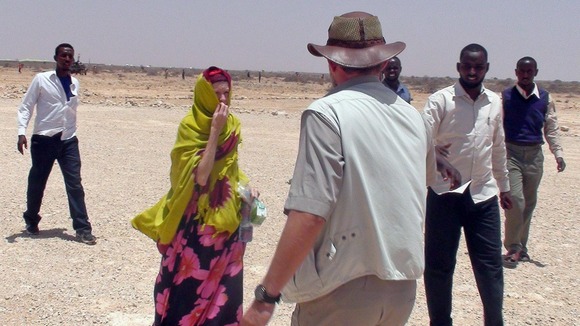 Mrs Tebbutt was seen running to board a plane from Adadi airport and arrived in Nairobi a short time later where she will stay in a 'place of safety' in the city, according to The Foreign Office. Foreign Secretary William Hague released a statement welcoming her release.
I am delighted that Judith Tebbutt has been released following her six month ordeal. Judith is now in the care of the British High Commission in Nairobi and has been reunited with her son, Oliver.

Our immediate thoughts are with Judith's family and friends who have endured the ordeal of her captivity with great strength and dignity. David Tebbutt, Judith's husband, was killed during the attack on the couple and I send my deepest condolences to them as they continue to come to terms with his death as a family. I hope the media will respect the family's call for privacy."
Her husband David Tebbutt was shot when a gang raided the couple's beach cottage in the early-hours attack.
Mrs Tebbutt, believed to be deaf and to wear twin hearing aids, is said to have been bundled into a boat which sped away from the isolated island resort.
The gang were at one point thought to be from al Qaida-linked insurgent group al Shabab, which holds much of southern Somalia, though there were also reports that the attack was carried out by pirates.
ITV News's Africa Correspondent, Martin Geissler has written how they are unlikely to face justice.
Mrs Tebbutt's mother Gladys Atkinson, 90, from Ulverston, Cumbria has spoken to ITV News and expressed her delight at the news of her dauther's release.
Judith's family told Stephen Douglas they couldn't believe their ordeal was finally over.
Mrs Tebbutt will meet her son, Oliver, in Nairobi, where she will stay before flying back to the UK.
Tonight the Foreign Office released a statement on her behalf.
"I am of course hugely relieved to at last be free, and overjoyed to be reunited with my son Ollie. This, however, is a time when my joy at being safe again is overwhelmed by my immense grief, shared by Ollie and the wider family, following David's passing in September last year. My family and I now need to grieve properly.

"I would like to thank everybody who has supported Ollie throughout this ordeal. I am now looking forward to returning home to family and friends whom I have missed so very much.

"I hope that while I adjust to my freedom and the devastating loss of my husband, that I and my family will be allowed space, time and most of all privacy, to come to terms with the events of the last six months."