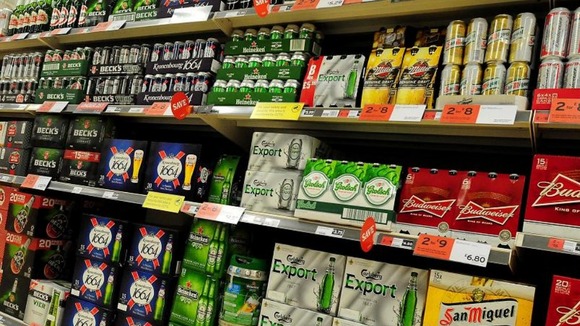 A minimum price per unit of alcohol will be introduced in England and Wales alongside plans to ban the sale of multi-buy discount deals, the Prime Minister has announced.David Cameron said he was making "no excuses" for clamping down on the country's drink problem but admitted minimum pricing would not be "universally popular".
Chris Ship, ITV News' senior political correspondent, has this report:
The move to set minimum prices for alcohol predictably has been met with opposition from the drinks industry.
Retailers and drinks firms said the policy was also at odds with the "responsibility deal" between alcohol companies and the Government, overseen by Health Secretary Andrew Lansley.
David Cameron is seriously misguided. It's simplistic to imagine a minimum price is some sort of silver bullet solution to irresponsible drinking.

It's a myth to suggest that supermarkets are the problem or that a pub is somehow a safer drinking environment.
– THE BRITISH RETAIL CONSORTIUM'S FOOD DIRECTOR, ANDREW OPIE
This is unprecedented intervention for the Government to set the retail price of a product which goes against basic rules of competitive markets.

If the Government thinks that price is a mechanism for addressing problem drinking, then from the 6th April it already has the power to raise duty or VAT that must be passed on to the consumer and the money going to the Exchequer.
– Morrisons supermarket
As a responsible retailer, we have a dedicated compliance function to ensure that governmental guidelines are duly acted upon.

We always put our customers first and continue to respond to new health initiatives that will positively impact on our customers.

In that endeavour, we have also always stocked premium quality alcohol, therefore it has always been competitively priced.
– Lidl supermarket
We are very keen to play our part in the fight against alcohol misuse. We are committed to engaging constructively in discussions with government on ways we can help, including minimum pricing, and look forward to doing so in the coming months
– Tesco supermarket
The cider industry is extremely disappointed with the Government's new legislative approach. There has been no consultation despite the great impact this legislation could have on our industry, which contributes significantly to the local, rural economies where our members are based.

The NACM recognises that we must find a solution to alcohol misuse, but Minimum Unit Pricing is not a silver bullet, therefore a commitment to implement it without debate is not how we expect Government to operate.
– Henry Chevallier, Chair of the National Association of Cider Makers (NACM)

Gavin Partington of the Wine and Spirit Trade Association has said that the unit pricing will not tackle 'problem drinkers.'

The opposition have responded to the plans too. The Shadow Home Secretary, Yvette Cooper, claims the Government is trying to cover a bad budget by rushing through 'something which is so serious' with little notice to MP's, during a debate on the alcohol strategy.

The Government for their part deny this and claim the plans are a sensible step to tackling alcohol abuse which will not affect responsible drinkers.

The Government's plans are part of an entire 'alcohol strategy' which covers:
Introducing minimum pricing for alcohol
A ban on bulk-buying price promotions, which the Government will consult on
Involve communities in decisions about licensing by:
Piloting 'sobriety schemes' to try and tackle alcohol-related offending
Charging clubs to cover the cost of extra policing
Doubling the fine for shops selling alcohol to children, bringing it to £20,000
Encourage the drinks industry to provide a wider choice of lower strength drinks
Giving more information on unit and calorie counts on packaging
Ensuring product placement and marketing is 'more responsible'
Supporting people who want to change their drinking habits by:
Providing £448 million to ' turn around the lives of 120,000 troubled families'
Providing services for treatment and recovery for people with alcohol problems