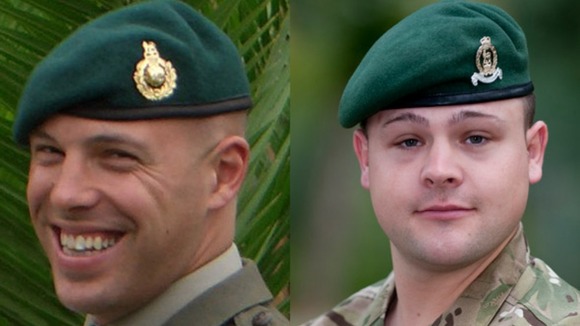 Sergeant Luke Taylor, who was 33 and of the Royal Marines, and 25-year-old Lance Corporal Michael Foley, of the Adjutant General's Corps (Staff and Personnel Support), were shot and killed by an Afghan soldier at the main entrance to Lashkar Gah Main Operating Base in Helmand province on Monday.
Sgt Taylor, from Bournemouth, Dorset, leaves behind his wife Nicola and their son Roan, while L/Cpl Foley, from Burnley, Lancashire, leaves his wife Sophie and their three sons Calum, Warren and Jake.
I was very saddened to learn of the deaths of Sergeant Luke Taylor and Lance Corporal Michael Foley, brave and committed British servicemen who died in the most tragic of circumstances whilst on operations. They died in the service of their country; they were in Afghanistan to protect Britain's national security.

Both men were known to their colleagues for their professionalism and military qualities, but outside of their careers, it is clear that both were also true and devoted family men. My thoughts and deepest sympathies are with all those left behind.
– Secretary of State for Defence, Philip Hammond MP

Asked whether the operation in Afghanistan was working, Hammond said it was and that, although tragic, the incident was 'rare'.

Today the soldier's friends, family and colleagues paid tribute to the two servicemen.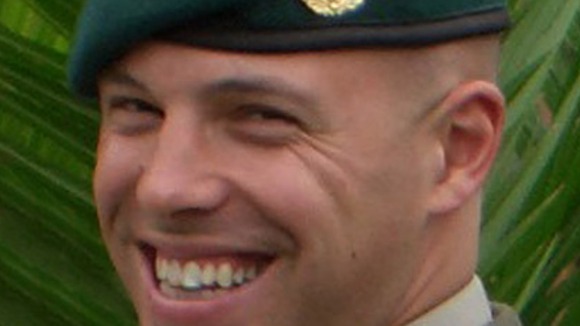 Luke was the kind of guy you wanted next to you– regardless of the situation, he was a cool head and a source of endless banter. I never saw him fazed; he just seemed to "crack on" and many a time dragged those around with him! He had one of those infectious charismas, always able to talk himself out of a situation. For me, like so many, Luke was simply an inspiration. Completely dedicated and loyal to his family, you could just feel the warmth when he spoke of them.
And on the rugby pitch he was a master – not just at playing, but leading teams to victory. It is difficult to try and sum Luke up in just these few words –we all miss him, but that is of course nothing compared to his devoted wife, Niki, and loving son, Roan. Our thoughts are with them. We will celebrate his achievements and the memories he has given us.
– A COLLEAGUE OF SGT LUKE TAYLOR, WHO CANNOT BE NAMED FOR OPERATIONAL REASONS.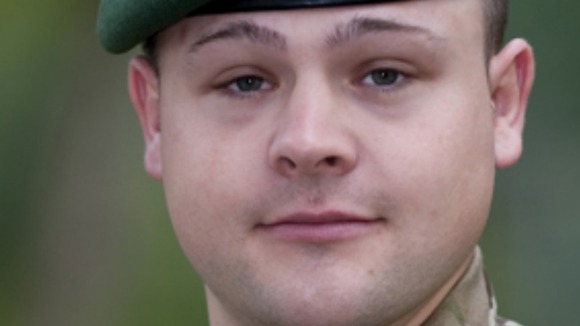 Lance Corporal Foley died protecting his comrades - his final gift of service to the Army and his country, and the ultimate sacrifice by a young commander who epitomised selfless service and dedication throughout his Army career. Since his arrival in the Headquarters the year before deployment, Lance Corporal Foley's infectious enthusiasm, absolute dedication and boundless energy shone through.
– Major BJ Cattermole, Scots Dragoon Guards, Chief of Staff, Headquarters 20th Armoured Brigade.

The shooting of Sergeant Luke Taylor and Lance Corporal Michael Foley was the latest in a string of "green on blue" attacks in which members of the Afghan security forces have opened fire on international allies.

An Afghan soldier killed the British men at the main entrance to the base in Helmand's capital before being shot dead himself.