Ron Burgundy confirms sequel to Anchorman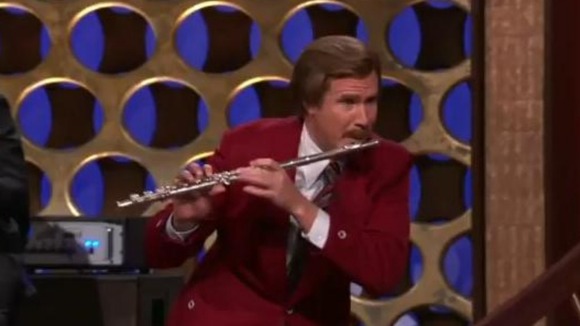 Scroll down for the video
Ron Burgundy made a very important announcement during the Conan O'Brien talk show.
The famous 1970s San Diego news anchor, played by Will Ferrell, confirmed that there would be a sequel to the cult comedy Anchorman.
After dazzling the audience with a blast of jazz flute, Burgundy made the announcement.
I want to announce this to everyone in the Americas, to our friends in Spain, Turkey and the UK, including England.
That as of 0900 Mountain time, Paramount Pictures and myself, Ronald Joseph Aaron Burgundy, have come to terms on a sequel to Anchorman.
It is official, there will be a sequel to Anchorman."
Original castmembers Steve Carrell and Paul Rudd will reportedly reprise their roles from the 2004 film.