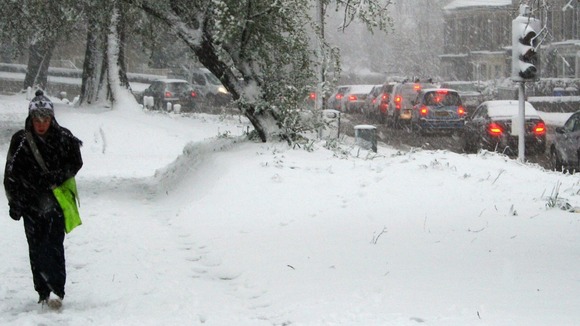 Another icy blast of wintry weather headed south today bringing busy roads to a standstill and leaving thousands of homes without power.
25,000 homes in part of Northern England are waiting to have their electricity restored but the snow and wind are hampering efforts.
One resident in Hamsterley Colliery in County Durham said he struggled to get any information about what was going on and what was being done to fix it. He had to resort to using candles.
Northern Powergrid says it is doing all it can to get things back to normal, but the conditions mean it's taking longer than usual:
Households affected across the North East, Yorkshire and north Lincolnshire
Around 200 incidents are causing the power cuts
Can't give a timescale on when power will return
The snow also brought traffic problems during the morning rush hour:
Police reported weather-related accidents on the M1 and M62
The A57 Snake Pass, which links Sheffield and Manchester, was closed
In North Yorkshire, 3ft snow drifts were causing problems for motorists mainly on routes across the North York Moors
On the A169 near Pickering and a snow plough was sent to help a stranded motorist but came off the road and struck a power line
Snow on M62. Traffic stationary. Vehicles sliding, accidents litter the hard shoulder. And I took off my winter tyres. I am staying at home
Good grief driving this van is hard work! M62 in Yorkshire is apparently a right mess because of snow. May have to detour via Brum :(
Very heavy snow settling on A61 north of Leeds, M621 and M62 towards Manchester. M62 particularly bad. Av speed 15mph. Two lanes useable.
Some motorists are struggling to stay on the road as blizzards sweep across the country. This car ran off the road near Cragg Vale.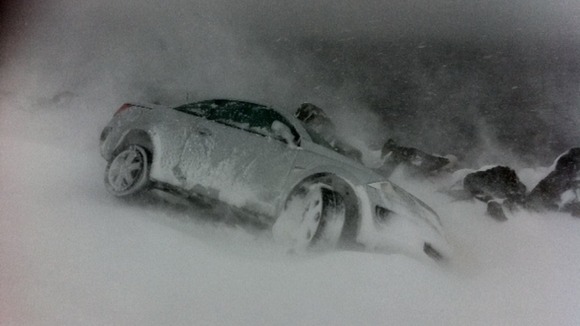 Police have been urging people to be "good neighbours" during the severe weather.
We advise motorists to drive with caution in the adverse conditions, moderate their speed and check their routes in advance. As far as the power outage is concerned we know that every effort is being made to restore electricity but efforts are being hampered by the weather. In the meantime I would urge everyone in the affected areas to be good neighbours. If you have an elderly or vulnerable person living near you, please check that they are OK and help them wrap up warm.
– CHIEF SUPERINTENDENT ANDY REDDICK, DURHAM POLICE

These satellite images show why Britain's weather is so dramatically different. The image on the left was taken last Monday showing almost cloudless skies. The image on the right was taken yesterday. The UK is hiding somewhere beneath the blanket of cloud.