Two of the UK's biggest teaching unions are on a collision course with the Government after voting for further industrial action, including strikes, over pensions, pay and job losses.
The National Union of Teachers (NUT) passed a resolution at its annual conference in Torquay seeking fresh walkouts as early as this summer amid concerns over the Government's changes to public sector pensions.
It came just hours after the NASUWT, which is holding its conference in Birmingham, agreed to escalate its industrial action campaign against attacks on pay, pensions, working conditions and job losses - raising the possibility of strikes in the autumn term.
The passed resolution said:
Conference is committed to further extending the current national action instructions to restore teachers' professionalism by attacking policies and practices which deprofessionalise teachers, including punitive fallout from the inspection and accountability regimes.
The NASUWT was the first teaching union today to pass a resolution calling for further industrial action over government reforms.
The NUT's talks could have paved the way for fresh walkouts which could even be as early as this summer.
The NUT has calculated that under the Government's proposals teachers will lose out in the following way:
An inner London teacher with 10 years' experience will lose an extra £49 a month from April, expected to rise to £123 a month by April 2014.
A teacher outside of London will lose an extra £30 a month from this month, expected to rise to £74 a month from April 2014.
The NUT, along with a number of other trade unions, has been embroiled in the row with the Government over public sector pensions for more than a year.
It took part in a walkout over pensions on June 30 last year, as well as joining the TUC's national day of action on November 30.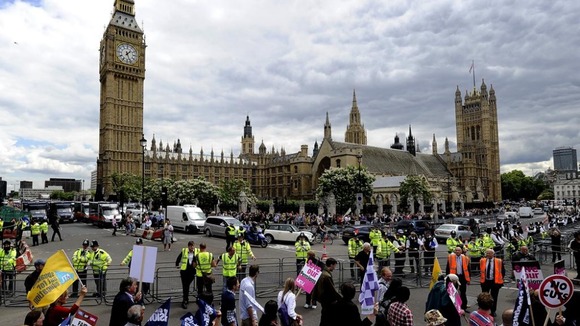 NASUWT treasurer Brian Cookson said there has been an "unprecedented, vicious, prejudiced and totally unjustified attack on the public sector" in the last two years:
As teachers we are supreme professionals and we must be treated as such. As our general secretary has said, "teaching is not rocket science, it is more difficult than that!" We want to achieve the best for the children we teach. We care about the future. We believe in education as a right..."

...Colleagues, we must avoid at all costs a shopping list approach to industrial action. Industrial action must have a carefully planned focus, a strategic approach. During the next term our members will really see the effects of a protracted pay freeze, a rise in pension contributions, see their pay fall, look at the prospect of a pay freeze and draconian curbs on pay for three further years, the scrapping of national pay rates on top of the mounting assaults on our professionalism you witness every day.
But a DfE spokesman defended the Government's plans:
It is absurd to say our school reforms are a 'vicious assault' on the teaching profession. They are all about putting children first and raising standards.We have given teachers more powers to tackle bad behaviour in the classroom and have introduced new laws to protect them from malicious allegations. We've also allowed schools to run their own affairs by becoming academies, and we have slashed bureaucratic paperwork to free-up teachers' time.

We are putting power back into the hands of talented heads and teachers - allowing them to get on with raising standards without interference from Whitehall or politicians.
Ahead of the conference, teachers made it clear that they would not stop at strike action:
The votes over strike action come as the NUT released a survey claiming that teachers are demoralised due to working conditions and pupil abuse.
More than two in five (42%) teachers say that their morale is currently low, or very low
Almost six in ten (59%) say their morale has declined in the last two years
a quarter (27%) said that they currently have high morale
The YouGov poll questioned 852 teachers in England and Wales between March 20 and 26.
ITV reporter Paul Brand was at the conference, in which teachers' unions told the government to 'leave them alone'.