Student saves bus after driver collapses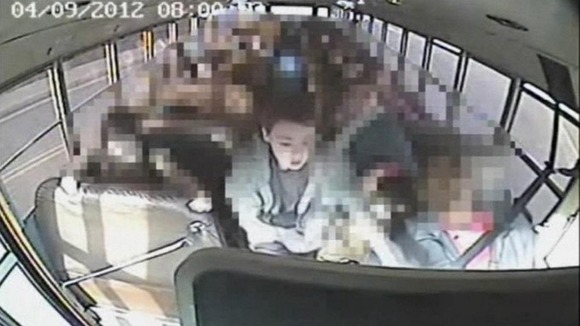 Jeremy Wuitschick took control of the wheel of his school bus and steered it to safety after his bus driver apparently had a heart attack whilst driving.
He jumped up and grabbed the wheel, and with the help of another student attempted to administer CPR on the driver, as the bus was travelling to Surprise Lake Middle School in the small town of Fife, Washington.
13-year-old Wuitschick turned the bus to towards the side of the road and managed to turn off the ignition.
He said he knew what to do after reading about a 'similar' situation where a superhero had to act quickly.
I was reading a book about these superheroes and this guy was in a bus and he was talking in his walkie-talkie and the guy was telling him to turn the ignition off.

I was just thinking of that book for some reason. Because I knew I probably couldn't have hit the brake because he was really big."
– Jeremy Wuitschick

Video from a security camera shows another student helping Wuitschick with the wheel as the bus came to a stop outside their school.

John McCrossin, director of student programmes for the Fife School District, was driving behind the bus when he noticed the bus veer off to the side of the road.

He ran onto the bus after it stopped and found the driver unconscious and not breathing. The driver was taken to hospital, but his current condition is not known.

Fife Police Chief Brad Blackburn said no one else was hurt thanks to the quick actions of the students.