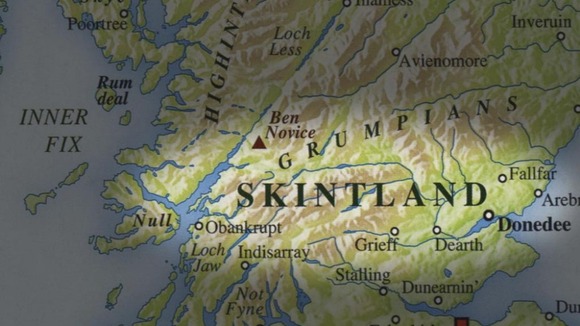 The Economist has waded into the row over Scottish independence with a scathing editorial on the economics of such a move.
The magazine said that Scottish independence would come at a hefty price and that Scotland would be left as "one of Europe's vulnerable, marginal economies."
The Scottish National Party took particular exception to the front cover; a map of the country renamed "Skintland."
Glasgow is renamed "Glasgone", Edinburgh becomes "Edinborrow" and the Highlands the "Highinterestlands".
First Minister Alex Salmond told Radio Clyde the magazine would "rue the day" it insulted Scotland.
It just insults every single community in Scotland,

This is how they really regard Scotland. This is Unionism boiled down to its essence and stuck on a front page for every community in Scotland to see their sneering condescensions.
Deputy First Minister tweeted her disapproval:
I'm pretty sure that Scots who don't support independence will find this week's @theeconomist cover every bit as offensive as those who do.
From
@NicolaSturgeon
on Twitter:
Alex Salmond said the article was not even funny, just offensive and that it would help increase the popularity of his party.
Debbie Edwards reports on how the article has went down in Glasgow