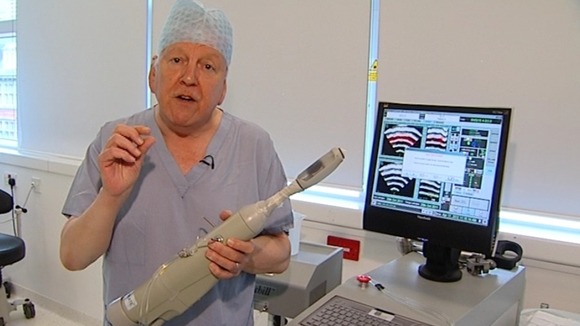 Trials of a new treatment for prostate cancer have produced very positive results. With further testing, it may pave the way for a new treatment that radically reduces unpleasant side-effects.
The new method, called HIFU (high-intensity focused ultrasound), uses sound waves to selectively target individual cancer sites in order to burn away the cancerous cells without affecting the surrounding area.
Current treatment - whether surgery or radiotherapy - leaves many men with serious and embarrassing side-effects including incontinence and infertility. The proportion of men who experience such side-effects after surgery is as follows:
Up to 25% are incontinent
Up to 75% can't get an erection
Up to 10% have problems like diarrhoea
Only 50% manage to avoid one of those three
More than 37,000 men are diagnosed with prostate cancer in the UK each year, and approximately 10,000 of those cases are fatal.
ITV News' Medical Editor Lawrence McGinty visited University College Hospital in London to watch a demonstration of the new technology. In this video, Professor Mark Emberton talks him through the treatment:
In trials of the new treatment, funded by the Medical Research Council, none of the 41 men taking part had incontinence of urine and just one-in-ten suffered from poor erections a year after treatment. The vast majority (95%) were also cancer-free after a year.
Dr Hashim Ahmed, who led the study, said:
Our results are very encouraging. Were optimistic that men diagnosed with prostate cancer may soon be able to undergo a day case surgical procedure, which can be safely repeated once or twice, to treat their condition with very few side-effects.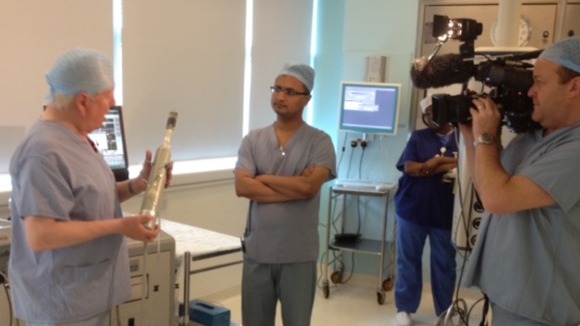 The Prostate Cancer Charity welcomed the research, but warned that the tests were still at an early stage.
We need to remember that this treatment was given to fewer than 50 men, without follow up over a sustained period of time. We look forward to the results of further trials, which we hope will provide a clearer idea of whether this treatment can control cancer in the long term whilst ridding men of the fear that treating their cancer might mean losing their quality of life.
– OWEN SHARP, CHIEF EXECUTIVE, THE PROSTATE CANCER CHARITY

Lawrence McGinty also spoke to Bob Louth of Romford, London who took part in the trial. He said he was deeply impressed with the treatment he received.