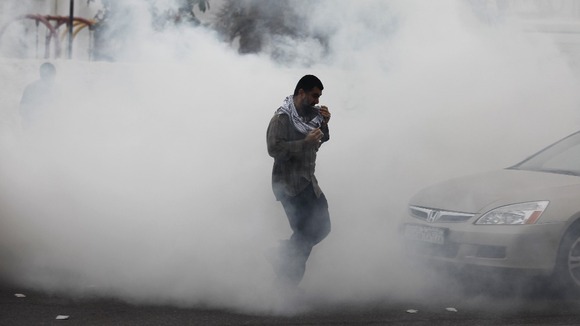 A Bahraini protester was found dead after clashes with riot police on Saturday, the eve of the Formula One Grand Prix that anti-government activists have vowed to mark with "days of rage".
The opposition party Wefaq said the body of Salah Abbas Habib, who was 37, was found on the roof of a building in a rural village.
They claim the man was part of a group who were beaten by police.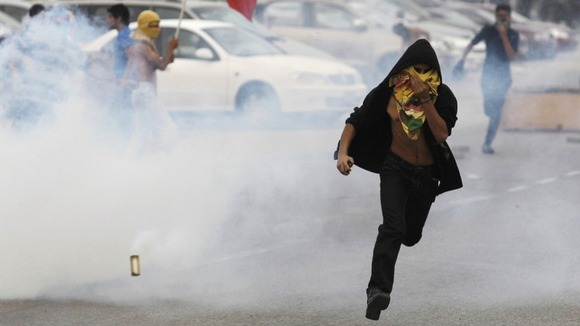 Wefaq, the leading party among Bahrain's Shi'ite Muslim majority population, published a photograph taken of Habib's body.
Bahrain's Interior Ministry said via Twitter that it was launching an investigation.
The body of a deceased person was found in Shakhoura today. Police have begun an investigation #Bahrain
Armoured vehicles and security forces in riot gear were deployed along the road to the Bahrain International Circuit and around the capital, Manama. Activists said barbed wire has been installed near some parts of the main highway.
The protesters, mostly from the majority Shi'ite Muslim community, blame the Sunni ruling elite for shutting them out of opportunities, jobs and housing.
They have made it clear they will use the international attention the motor race has focused on Bahrain to air their grievances.
The government are using the Formula One race to serve their PR campaign.

It's not turning out the way they wanted.
– Nabeel Rajab, Activist

There were no protesters near the Grand Prix circuit, which was blanketed with layers of security. Saturday's practice runs began without incident.

Organisers have rejected calls from human rights groups to cancel Sunday's race because of what activists see as continuing political repression.
They need to fix the country first, then they can start looking at Formula One and other events.
– Umm Hussein, one of 10,000 demonstrators who gathered near Manama

Around 5,000 people marched through Manama to express their dissatisfaction at the presence of the sport in the country at this time.

But, speaking to the BBC, Formula One chief executive Bernie Ecclestone said:
It's nothing to do with us. We have people in all sorts of countries not satisfied with things. We have people in England - I think it's Conservative and Labour that don't agree on things - and that's how the world is.
It was reported that following the march protesters clashed with police. It is understood that Bahraini police fired tear gas to break up a protest in a Shi'ite district outside Manama and protesters responded with petrol bombs.
A witness told the news agency Reuters there were up to 150 protesters, who had taken part in a march of several thousand earlier for democratic reforms and against Formula One, and around 50 riot policemen in jeeps.
David Cameron resisted pressure to call for the cancellation race, insisting it was a matter for the Formula One authorities whether the race should go ahead on Sunday.
Labour leader Ed Miliband added his voice today to demands for the race to be called off, urging the Prime Minister to do the same.
William Hague spoke to his counterpart in Bahrain, calling for restraint.
Spoke to Foreign Minister of #Bahrain today to call for restraint in response to protest & dialogue with opposition
Mr Miliband said it would send out the wrong signal for the Grand Prix to go ahead at a time of protests over human rights abuses in the Gulf kingdom.