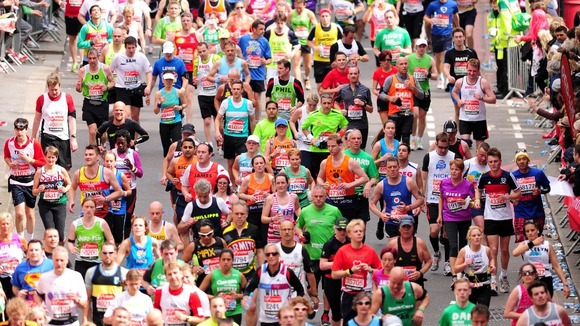 Tens of thousands of fun runners, amateur athletes and celebrities took part in the 32nd London Marathon.
Around 37,500 athletes finished the 26.2-mile course through the streets of the capital to earn their marathon medals and raise money for countless charities.
Kenyan Wilson Kipsang won the men's London Marathon in an unofficial time of two hours four minutes and 43 seconds at his first attempt.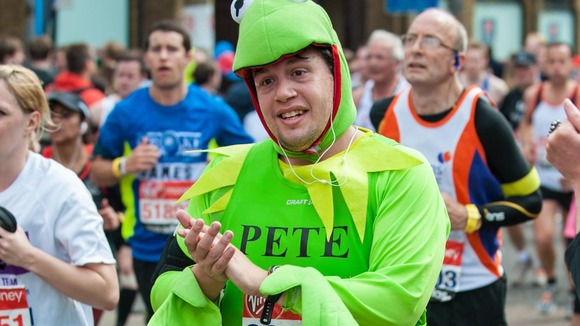 The reigning Frankfurt Marathon champion beat compatriot Martin Lel into second. Ethiopia's Tsegaye Kebede was third.
Mary Keitany, also from Kenya, retained her London Marathon title with a time of two hours 18 minutes and 36 seconds, setting a new national record in the process.
The men's wheelchair race was won by David Weir, his sixth victory, and Briton Shelly Woods won the women's section of the wheelchair marathon, coming in at 01:49:10.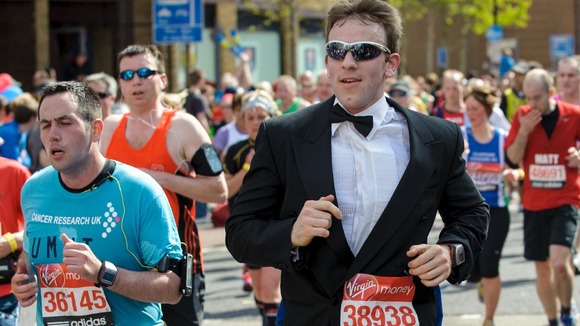 Model Nell McAndrew finished the marathon in just under three hours and said her treat of choice would be a huge 99 ice cream with a flake.
She spoke of her pride at having broken the three-hour barrier in her sixth London Marathon.
I smashed it, easy! The last two miles I needed the loo and I'm gutted because I thought that I might be able to go 30 seconds faster at least. It makes you think that maybe I could get 2:50 and it's addictive.
Matthew Pinsent, who won four Olympic gold medals, has tweeted that his fellow rower James Cracknell has completed the London Marathon in under three hours.
Rower James Cracknell said he was "satisfied" at beating the three-hour marathon mark, especially given an injury which had prevented him running in the weeks before.
If you asked any of the competitors 'hands up if you've got a niggle' there would be 35,000 hands up. I broke a metatarsal a month ago and haven't run since then but actually that played to my strengths as I knew I would have to keep something in the tank and so I felt alright.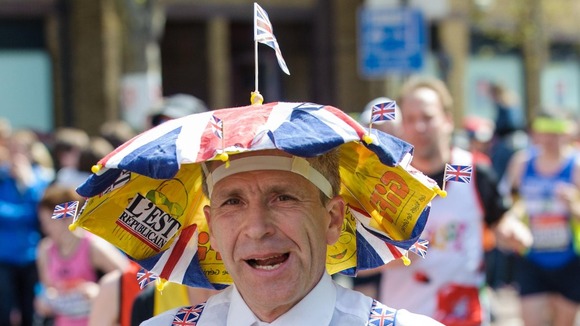 Shadow Chancellor of the Exchequer Ed Balls praised the crowds for keeping him going after posting a time of over five and a half hours.
The crowd was fabulous, the atmosphere was amazing and it was really, really hard. I had a good first 13 miles and a good last 8 miles but the bit in the middle was really, really tough. I almost stopped and wondered if I could do it but the crowd keep you going as do the other racers.

My final time was 5:33 which was fine, pretty much what I should have run on the basis of my training. We have raised £56,000 so far for Whizzkids and for Action for Stammering Children so the time's ok, we raised lots of money...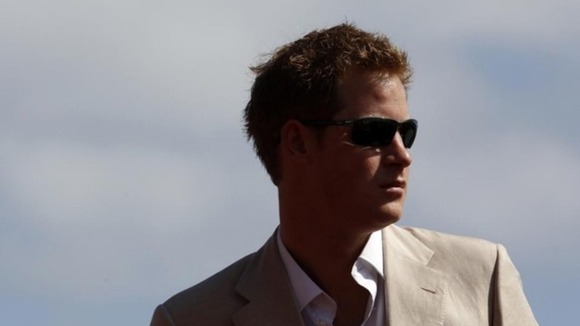 Prince Harry, who will present trophies to this year's London Marathon winners, has spoken of his admiration for those involved in the race.
It's staggering. I always presume that after about 10 or 12 miles your body just shuts down and you go into overdrive because they come across the line, no-one's sweating.

The only time they smile is when they cross the finish line, a little bit wobbly on their knees but apart from that it's effortless for most people.
Clarence House have confirmed that Prince Harry was joking when he suggested that the Duke and Duchess of Cambridge were planning to enter the 2013 London Marathon and added that the royal couple had no firm plans to enter the race.Prince Harry had earlier told the BBC:
I have been trying to get myself a place for years. I can't get myself a place. What do you have to do?

What's fantastic is that my brother and his wife will be doing it next year, I think. He's going to have to now, isn't he?
– Prince Harry