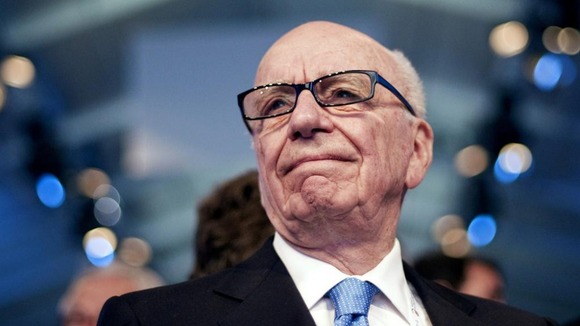 Rupert Murdoch is one of the richest and most powerful media moguls of our time.
He is the chairman and CEO of News Corporation, and despite entering his ninth decade still takes a very hands on role in his company.
According to Forbes, he is worth $8.3 billion making him the 106th richest person the world, the 38th richest person in America.
Born 11th March, 1931 in Melbourne, Australia
Lives in New York, America
Son of well respected journalist and newspaper owner Keith Murdoch
Studied at Oxford in 1949
Married Patrica Brooker in 1956
Married Anna Torv in 1967
Married Wendi Deng in 1999
Father of six children
He began his career aged 22 when his father died and left him half a share in two newspapers based in Adelaide. He immediately returned to Australia and set about changing the fortunes of the papers; making it much more "popular" much to the dismay of his editors.
Two years later he bought the Perth-based Sunday Times, revamped it, and watched circulation soar. In 1960 he bought Sydney based daily the Mirror and similarly turned it around.
In 1965 he founded his first national daily paper, the Australian.
In 1965 he moved to London and purchased the popular tabloid the News of the World. One year later he bought struggling daily tabloid the Sun, and transformed it's fortune using the same methods he used in Australia; by featuring lots of stories on sex, sports and crime.
He created the infamous 'Page 3' feature, still going today.
In 1973 he moved further west and expanded his empire to America by buying the Texas-based tabloid the San Antonio News. He then founded a national tabloid, the Star, in 1974 and bought the New York Post in 1976.
In 1979 he founded News Corporation.
I'm a catalyst for change … You can't be an outsider and be successful over 30 years without leaving a certain amount of scar tissue around the place
– Rupert Murdoch, in an interview

Throughout the 80s and 90s he bought a series of news outlets and papers across the globe; including the Times and the Sunday Times of London.

In 1985 he bought Twentieth Century Fox Film and several other smaller stations and merged them into one company Fox Inc.

In 1990 he founded STAR TV, a company based in Hong Kong that broadcasts to over 320 million views across Asia.

In 2005 he purchased Intermix Media, the owner of MySpace.com, and in 2007 he bought Dow Jones, the owner of the Wall Street Journal.
"I think that I give my editors tremendous freedom and the only people who claim that I don't give them enough freedom now are the people who wouldn't know how to use it,
– Rupert Murdoch, in an interview

During the 80s and early 90s his newspapers were generally supportive of the Conservative government, but this all changed with the advent of New Labour and many claim his personal links with Tony Blair secured their 1997 election victory.

A recent convert to twitter, he has been tweeting his thoughts on the state of the UK economy, Europe, and the many "crappy blogs" hosted online.

Back in Britain. Govt sending IMF another ten bn to he euro. Must be mad. Not even US or China chipping in. Same time taxing hot food.

Tweeters who don't like particular newspapers don't have to buy them. Thousands of crappy blogs available.