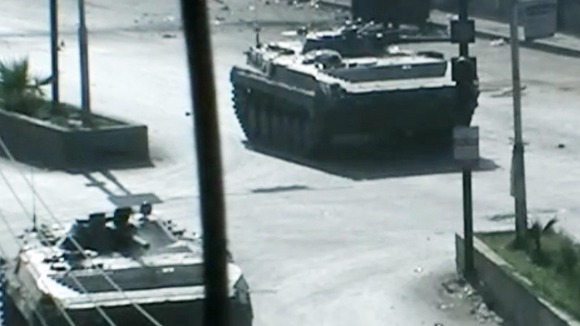 Fifteen United Nations observers have entered Syria and have found Assad's tanks still on the streets of cities.
The United Nations Chief Ban Ki-Moon has reported that the Syrian Government is not complying with the peace plan it signed up to earlier this month.
The Secretary-General remains deeply troubled by the continued presence of heavy weapons, military equipment and army personnel in population centres [...]

This is a contravention of the Syrian Government's commitments to withdraw its troops and heavy weapons from these areas
– Spokesman from the office of United Nations Chief Ban Ki-Moon

The UN observers reported that tanks were still on the streets of Damascus, despite the Syrian Foreign Minister Walid al-Moualem writing to special envoy Kofi Annan on Saturday to inform him that Damascus had withdrawn heavy weapons and troops from cities.

United Nations observers inspected the site of an explosion which flattened a block of houses in the central Syrian city of Hama and killed at least 16 people.

Government and opposition forces have blamed each other for the blast.

Two UN observers are stationed in Hama, part of the advance team of 15 monitors who are visiting hot spots attempting to salvage a ceasefire.

Norwegian general Norwegian General Robert Mood to lead the team of observers.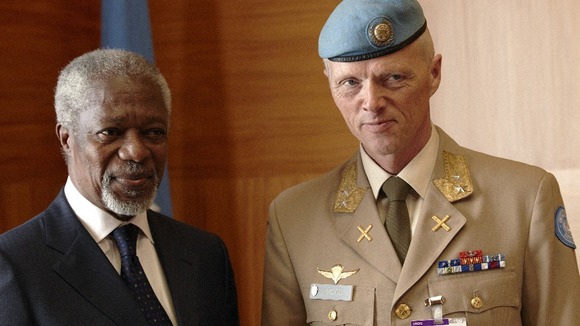 With the violence continuing the international community has repeated calls for the Assad regime to honour the terms of the peace agreement they signed up to.
The Secretary-General is gravely alarmed by reports of continued violence and killing in Syria, including shelling and explosions in various residential areas as well as armed clashes,

This situation is unacceptable and must stop immediately,"
– Spokesman from the office of United Nations Chief Ban Ki-Moon

Last night the US ambassador to the UN, hit out at the regime and repeated calls for a ceasefire.

The Arab League strengthened their position.

A statement issued by Arab foreign ministers meeting in Cairo said the Damascus regime was negotiating while simultaneously "killing its own people."

Arab countries are divided over how to deal with the Syrian crisis, with Gulf countries led by Qatar and Saudi Arabia in favour of arming the opposition, and others like Egypt, Iraq and Sudan preferring a diplomatic solution.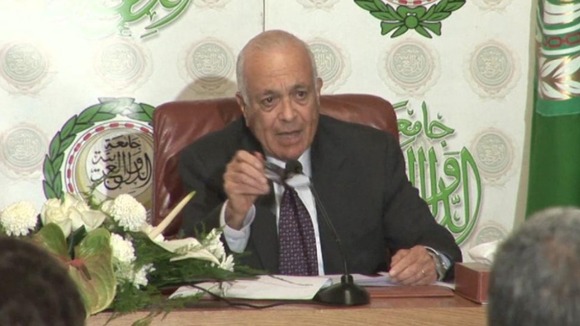 Head of the Arab League Nabil Elaraby said:
"The Arab League will hold responsible all those who have committed crimes against the Syrian people.
– Nabil Elaraby, Arab League chief

The United Nations estimates that more than 9,000 people have been killed in the conflict.