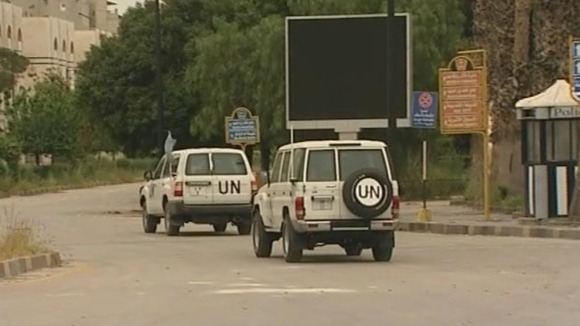 Gunfire greeted the team of United Nations observers as they reached the Syrian city of Homs.
Security officials from Syria say the situation is "very dangerous" and that the rebels still hold the district of Khalidiya.
ITV News' International Editor Bill Neely traveled with the UN team to Homs.
He said "it is quite clear there is no ceasefire", three weeks on from when it was meant to have been observed, having witnessed gun battles on the streets throughout the day.
It is quite clear there is no ceasefire in Homs. There are sounds of gun battles across the city. There is firing from small arms - and heavy weapons can also be heard. It is obvious there are prolonged exchanges of firing.
– Bill Neely, ITV News' International Editor

UN truce observers left from Damascus this morning and entered the city earlier today. There are a total of four UN monitors inside the shelled-out city now, and a total of thirty across the country.

A particularly badly hit area within Homs is the formerly rebel-held district of Baba Amr, now cleared of anyone opposed to President Assad.
Hundreds have died in the Baba Amr area of the Syrian city of Homs throughout the conflict. It is now a virtual ghost town and there has been widespread disruption. There is evidence on every street of fighting.
– Bill Neely, ITV News International Editor

The governor of Homs told ITV News that the city remains dangerous.

"I believe the militants, daily, are provoking the ceasefire - if we can call it a ceasefire", said Ghalassam Abdul-Al.

The UN has appealed to both sides to stop the violence. It estimated that more than 9,000 people have died since the uprising began in March 2011.

Since the truce was called last month they estimate that at least 34 children have died in the fighting.

There are currently 30 unarmed truce monitors inside Syria - a country with 23 million people. UN officials in New York say they expect all members of the planned 300-member mission to be on the ground by the end of the month.