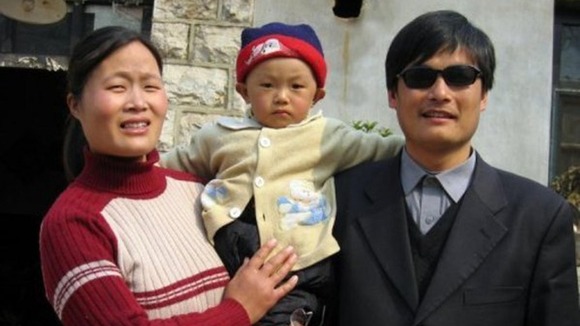 About an hour ago we managed to get through to Chen Guangcheng's phone.
He and his family are inside a central Beijing hospital, reunited today, after he left the US Embassy where he had been seeking sanctuary. Here's what he told us.
My situation is very, very dangerous. I am lying on bed with my legs in plaster. I can only take calls but not be able to dial out. I don't feel secure.
Asked why he left the US embassy:
They threatened to send me and my family home back to Shandong if I didn't leave the embassy. There are a lot of people back at home, in the house, in courtyard and on the roof. They set up 7 cameras as well as electric wires. They have huge bars and want to kill my family.
Asked what his plan is:
I want to leave China with my family, not necessarily toAmerica."
Asked if he is with any US officials:
They promised they will send someone to stay with me. But when I walked into the hospital and tried to find them, they are not here..[sounds upset]

I asked the US government to take practical actions to guarantee my security and human rights, to give me practical help but instead they consider too much benefit for their country.

I asked them to try their best and take practical actions
Tonight it seems he and his family are unsure of their future after a long day when at times it seemed an extraordinary deal securing his freedom had been sealed.