Local elections 2012
SNP places Labour stronghold firmly in its sights
by Debi Edward: Scotland Correspondent
Labour has ruled in Glasgow for as long as most can remember. The party has had control of the city council in Scotland's largest city almost uninterrupted since 1933, its current rule has lasted 32 years but this Thursday many are predicting that stronghold could come to an end.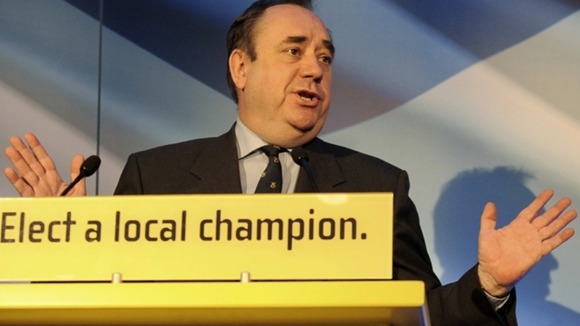 The SNP, following their historic Scottish Parliamentary victory last May have the city in their sights, their leader Alex Salmond clearly believing they still have the momentum.
Speaking to ITV News the Scottish First Minister said:
Our target is to win more votes and more seats than any other party across Scotland and with a very positive message we think we've got the initiative in this campaign but we are working hard for every single vote.
A lot is being said about the possible influence of the Independence referendum on these local elections in Scotland. One political analyst I spoke to said although it has overshadowed the run up to May the 3rd its not likely to be a deciding factor as they cast their vote.
Professor James Mitchell from Strathclyde University told me:
The signs are that this will be a test on how people see the SNP as a party of government rather than how they see the SNP's constitutionally preferred position of independence but the spin will be there, it will either be the SNP saying this is a stepping stone to independence or their opponents saying the SNP cant get their vote out, they are not going to win independence. The reality is that this is the local elections and national factors will play a part but the constitutional question will be a very minor part is peoples deliberations as they go into the polling booth.
In an interview out on the campaign trail in Glasgow Johann Lamont the Scottish Labour Leader admitted her party has a big fight on its hands and she rejects the view that Labour has relied too heavily in past on their traditional core vote in Scotland.
We know that we are in tough times as a party, we are fighting back, we have no entitlement to anyone's vote. What we are saying is that we are hungry to meet with people to discuss with them how we would make their priorities effective in council. I know that in this campaign every one of our candidates has been out speaking to the people being absolutely clear that our priorities are the priorities of the people of Glasgow.
Labour know they are going to come second in these elections, Johann Lamont has all but stated that on the record but that could just be about the control of expectations. Her party has still not figured out how best to tackle the SNP and the slick and efficient PR and Communications team which surrounds the Nationalists movement.
As we move towards the independence referendum in 2014 Labour may find the answer and start fighting back but they won't do so by Thursday and it looks like, this time, the SNP are going to sting Labour and at their very core in Glasgow.