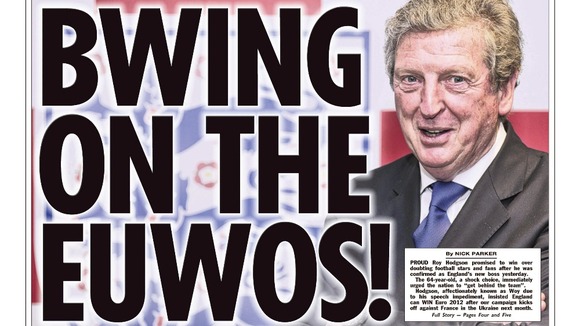 The Press Complaints Commission (PCC) and Football Association have received more than 100 complaints after the front page of the Sun newspaper appeared to mock new England manager Roy Hodgson's speech.
The headline and sub-headings on the lead story in the paper were all altered to imitate Hodgson's manner of speaking:
Woy gets England job

BWING ON THE EUWOS!

(We'll see you in Ukwaine against Fwance)
– Sun headline

The Football Association described the front page as "unacceptable" while Chairman David Bernstein described it as "in poor taste and disrespectful".
The FA and the Press Complaints Commission (PCC) have today received a large number of objections relating to the front page headline in The Sun newspaper, regarding Roy Hodgson's manner of speech.

On this occasion, we will not be making an official complaint to the PCC but we have raised it with the newspaper and made it clear that their front page is unacceptable to us.
– Football Association
We are delighted at the media response to Roy's appointment but are disappointed with the headline in The Sun, which we consider is in poor taste and disrespectful.
– FA Chairman David Bernstein

Outrage has been growing on twitter all morning to the splash with sports pundits and fans coming out in support of Hodgson:

Charming front page of the Sun. Hodgson has won 11 major titles/trophies, speaks 5 languages but let's mock his speech http://t.co/zg45l4PF

How long will it be before The Sun gets over the 'hilarious' fact that a man who speaks 5 languages slightly mispronounces the letter R?

The Sun is a disgrace. Not acceptable to make fun of Hodgson's impediment. He speaks 5 languages, that paper struggles to write in one.

The sun newspaper is a disgrace!! Day 1 into the job and he's already getting hammered! Hope he does well, good manager! #dontbuythesun