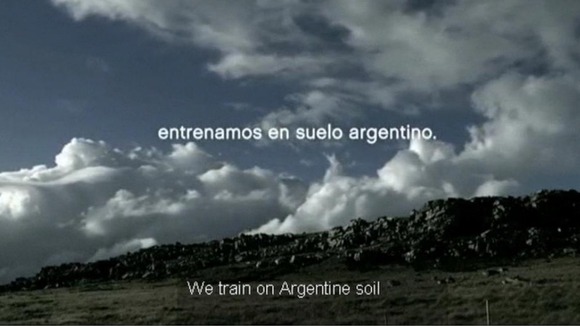 A controversial Argentinian television advert showing an Olympic hopeful training on a British war memorial has been criticised by the Foreign Secretary William Hague, as well as Falklands veterans.
The company responsible for making the advertisement for the government of Argentina have apologised.
Conservative MP Andrew Murison served as a former Royal Navy surgeon in the Falklands. He said the Argentine government's "feral and disgusting behaviour" was "beneath contempt."
In this crude production, Mr Zylberberg is seen using the island's memorial to the fallen of the First World War as a handy aide in his sweaty step-up routine.

The symbolism is sickeningly clear, designed to offer maximum offence and contrary to both the Olympic spirit and all sense of human decency.
– Conservative MP Andrew Murison

The Falklands Nation Sports Council said residents were upset by the video which they labelled a "stunt."

Mike Summers, the chair, said the government were "trying to play politics with the Olympics" and that they plan to formally complain to the International Olympic Committee.

The agency responsible, Young & Rubicam, issued an apology for the "pain this ad has caused" and said they to were "disturbed" by it.

Sir Martin Sorrell, the British chief executive of communications giant WPP, the company who owns advertising agency Young & Rubicam, called it "totally unacceptable."
The ad is totally, and I mean totally, unacceptable. The agency has formally apologised for any offence or pain caused. We are appalled and embarrassed by it.
President Cristina Fernandez de Kirchner has been attempting to reassert Argentina's claim to the British overseas territory, but the Government says it will not discuss the issue without the agreement of the Falkland islanders.
Last month saw the 30th anniversary of the start of the Falklands War.
Defence Secretary Philip Hammon has said Argentina should apologise for the insult it has caused to British soldiers. Paul Davies reports.