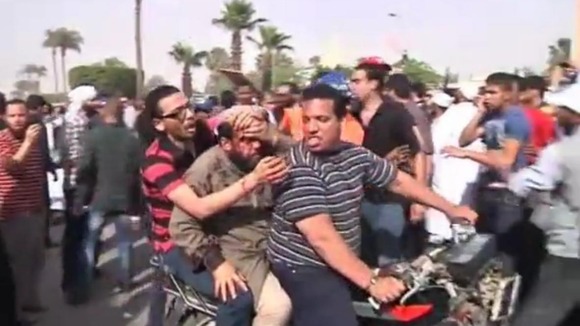 Protesters threw rocks at troops guarding Egypt's defence ministry on Friday as thousands marched in Cairo to denounce violence against demonstrators and the exclusion of candidates from the presidential election.
The army responded with water cannons and teargas before riot police surged towards the crowd with batons.
Egypt's Health Ministry said 128 people were injured in the clashes, with 82 taken to hospital.
The crowd called for the overthrow of the head of the ruling army council, Field Marshal Hussein Tantawi, outside the ministry where 11 people were killed in clashes on Wednesday.
Troops pressed forward when protesters began cutting through barbed wire used to seal off the ministry building in Cairo's central Abbasiya district.
"The crowd is coming here with sharp weapons. We have batons and water cannons and teargas to disperse them.

Some of them believe if they kill a soldier they will go to heaven. What do you expect us to do?"
– Egyptian military commander

The ruling military council have imposed a one-night curfew in the area until 7am on Saturday.

Some protesters regrouped closer to the town centre after dark, waiting to return to the defence ministry, and some threw rocks and stones at troops blocking their path, state media reported.

Several thousand Islamists, liberals and left-wing revolutionaries also massed on Friday in Tahrir Square.

Banners draped in Tahrir demanded implementation of a law banning figures from the Mubarak era from high office.

The unrest comes less than three weeks before elections. Last-minute changes to the line-up of contenders, bickering over a new constitution and suspicion that the military will stay in power are creating chaos.