Prince Charles' guest appearance as weatherman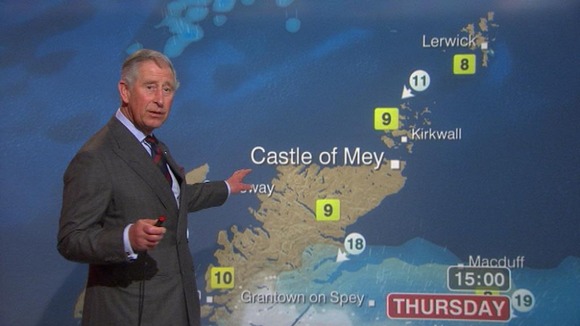 Prince Charles had a go at reading the weather during a tour of BBC Scotland's Pacific Quay headquarters.
The Prince and Duchess of Cornwall, were visiting the broadcaster as a part of their annual Holyrood Week.
The prince delivered a specially written script which included references to royal residences in Scotland.
For example:
"There will be snow for the higher grounds of the highlands and Aberdeenshire. The potential for a few flurries over Balmoral."
At one point he joked: "Who the hell wrote this script?!"
ITV News' Royal Correspondent Tim Ewart reports.
Prince Charles ended his forecast by saying:
"But a cold day everywhere with temperatures of just 8C and a brisk northerly wind. Thank God it isn't a bank holiday."
The Royal weather forecast featured on the BBC One O'Clock News, and shortly after Prince Charles was trending on Twitter.
Here are some of the tweets:
Prince Charles doing the weather is possibly one of the greatest things that has ever happened: http://t.co/eJfQAvGq
Whoever let prince charles present the weather on bbc Scotland deserves an award! Sooo funny. Highlight of my day seeing that. Lol
Prince Charles is not the first Royal to get a lesson in weather forecast presentation.
In 2010, the Queen was given a demonstration by UTV's Frank Mitchell, who explained how green screen technology works.