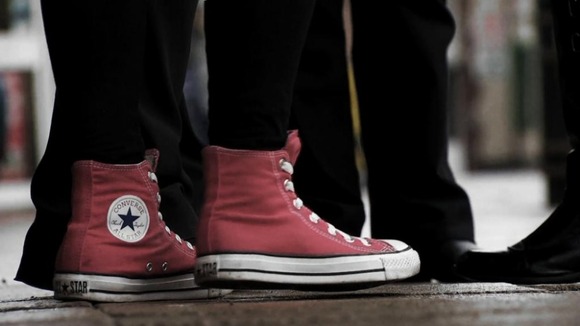 Nine men have been questioned by detectives investigating a suspected second child grooming case in Rochdale, Greater Manchester Police said.
The alleged victim is understood to be one of 47 girls questioned by police in relation to an earlier child sexual exploitation ring in the town.
Greater Manchester Police the men arrested in the latest inquiry are not thought to have known each other.
They have described the victim as "vulnerable".
The most recent arrests took place last Friday when two men, aged 24 and 26, were held on suspicion of sexual activity with a child.
A GMP spokesman said the arrests were the result of an inquiry into the sexual exploitation of a teenage girl by men since 2005.
"In total nine men have been arrested aged between 24 and 38-years-old, on suspicion of sexual activity with a child," he added.
"They have been bailed pending further inquiries."
That case concluded on Wednesday when nine Asian men received jail sentences of between four and 19 years from a judge who said they treated their five white victims "as though they were worthless and beyond any respect".
Greater Manchester Police has made no official comment on the latest arrests.
Rochdale MP Simon Danczuk said today:
"There have been some who've said this is a one off case but I have consistently said I believe it to be a wider problem and that's why I am pleased to see the police acting.

I hope the heavy sentences imposed will encourage other victims to speak out because this crime is being taken very seriously and we need to send out the clearest message that this behaviour will not be tolerated in Rochdale or anywhere else
The recent trial, at Liverpool Crown Court, heard that five girls - aged between 13 and 15 - were given alcohol, food and money in return for sex but there were times when violence was used.
The offences happened in and around Rochdale in 2008 and 2009.
The men were convicted of conspiracy to engage in sexual activity with children under the age of 16 and other sexual offences including rape and trafficking for sexual exploitation.