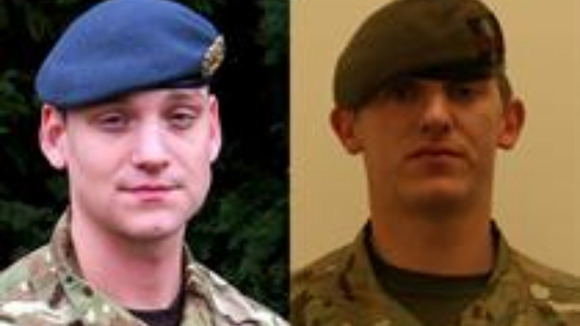 Two British servicemen who were shot dead by members of the Afghan Police Force have been named by the Ministry of Defence.
Corporal Brent John McCarthy, a Royal Air Force airman, and Lance Corporal Lee Thomas Davies, from 1st Battalion Welsh Guards, were killed at a patrol base in the Lashkar Gah district of Helmand province.
The servicemen were providing security for a meeting with local officials when two people wearing Afghan Police uniforms opened fire.
Cpl McCarthy's family paid tribute to a "loving, sensitive young man":
Brent was a loving, sensitive young man. He excelled at sport and had the whole world in front of him. He loved his family dearly and will always be a hero to his niece Miajay.

Brent will be sadly missed not only by us but also by his loving partner Sarah and her devoted family. Life will never be the same for any of us. We will love you always. God bless.
Lieutenant Colonel Dino Bossi, Commanding Officer 1st Battalion Welsh Guards, said Cpl Davies "loved being a soldier":
Lance Corporal Lee Davies loved being a soldier – it was who he was. He passed out from the Infantry Training Centre Catterick in April 2010.

He swiftly made a name for himself for his enthusiasm, fitness and professionalism as an infantry soldier and in less than two years was promoted to the rank of Lance Corporal.

To have made such a profound impact so early in his career speaks volumes about the quality of the man we have lost.
One of the men responsible for the shooting is now on the run, whilst the other was killed when forces returned fire.
Defence Secretary Philip Hammond said the soldiers "sacrifice will not be in vain":
I send out my heartfelt condolences to the families and friends of Corporal Brent McCarthy and Lance Corporal Lee Davies whose lives were cut tragically short by a cowardly act of aggression.

Both Servicemen were performing an invaluable role, training and mentoring Afghan police, helping to ensure that Afghanistan will never again be a place from which international terrorists can launch attacks on our society.

Their sacrifice will not be in vain and we will never forget them.
– Defence Secretary Philip Hammond

This is the latest in what would appear to be a string of "green on blue" attacks in which members of the Afghan security forces have opened fire on their international allies.

The attacks come a day after a Nato soldier was shot dead in Kunar province. His assailant was wearing an Afghan army uniform.

Major General Patrick Cordingley, a retired British Army officer, says these so called 'green on blue' attacks are thankfully rare.

In March, Sergeant Luke Taylor, of the Royal Marines, and Lance Corporal Michael Foley, of the Adjutant General's Corps were shot dead by an Afghan soldier at the entrance to the UK headquarters in Helmand province.

Five British soldiers were killed by a rogue Afghan policeman in November 2009. The gunman opened fire on the men in a military compound in Nad e-Ali before fleeing. The Taliban later claimed responsibility.

A total of 414 members of the UK forces have died since the war in Afghanistan began in October 2001.

The news of the deaths comes as Afghanistan's President Karzai announced that Afghan forces will be taking responsibility of a further 122 areas across the country, including the Nahr-e-Saraj district.

The district is one of three in Helmand where British troops are deployed.