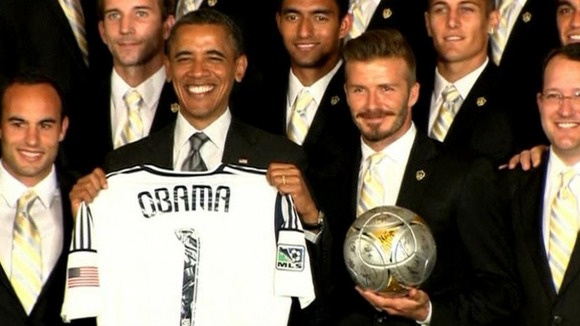 David Beckham and his LA Galaxy team mates were welcomed to the White House for a special reception hosted by President Barack Obama to celebrate the team winning the Major League Soccer cup, the US equivalent of the Premier League title.
ITV Washington Correspondent Robert Moore reports.
President Obama has recently started to invite winning sports teams to the White House, particularly those that are contributing to the First Lady's fitness drive for young people, Let's Move.
Obama applauded the whole team for their success calling them "one of the most talented line-ups the MLS has ever seen."
After paying tribute to Irish footballer Robbie Keane, whom he described as a "cousin of mine" he turned his attention to "young up and comer" David Beckham.
He made a few quips at Beckham's expense, but praised him for his continuing fitness and success despite a series of injuries. He said:
He is tough, in fact it is a rare man who can be that tough on the field and also have his own line of underwear.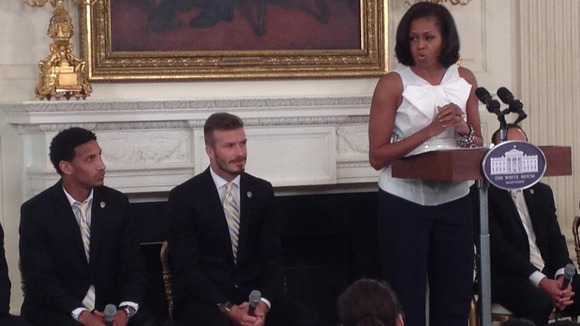 After the team met President Obama they took part in a press conference hosted by the First Lady Michelle Obama, as part of her Let's Move fitness campaign for young people.
Beckham answered a number of questions from young people, and even shared some healthy eating tips.
Quality questions from the kids today! Best one yet, for David Beckham: "What did it take to become the man you are today?"
Beckham on favorite snack: "When I was little I was told carrots would make me see in the dark... so carrots are my favorite healthy snack."