ITV News Europe Editor James Mates on a stormy day in Europe:
During their first meeting new French President Francois Hollande and German Chancellor Angela Merkel have spoken about their hopes to keep Greece within the eurozone.
We want to work together for the good of Europe and with all other countries.

Like Mrs. Merkel, I want Greece to remain in the euro zone. We must allow the Greeks to find solutions.

I hope that we can say to the Greeks that Europe is ready to add measures to help growth and support economic activity so that there is a return to growth in Greece at a time when it is in recession
– Francois Hollande
I want to reiterate, and we agreed on this, that we want Greece to remain in the euro. We also know that the majority of the people in Greece see it that way.

We think the memorandum has to be stuck to but, as I've said repeatedly in phone calls with the Greek politician Samaras and also with President Papademos, we want to do whatever we can do to help Greece structurally, with growth, in terms of organisation.

And I believe we also agree that Greece belongs in the European Union, belongs in the euro group.
– Angela Merkel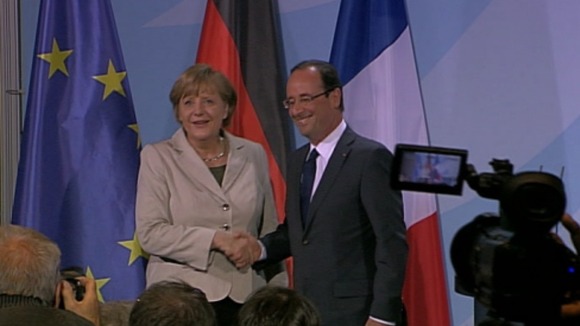 Although there was agreement on Greece and a real attempt to show that they will have a good working relationship, there were signs that they have different hopes, especially toward growth. President Hollande was unabashed in his talk about growth.
On growth, the method that we agreed is putting all ideas and all proposals on the table and seeing what legal means exist to put them into effect.

I said that I want growth to be not only a word but backed by tangible actions that are made a reality.

I want to put growth at the heart of our debate.

I said it during my election campaign and I say it again now as president that I want to renegotiate what was has been agreed to include a growth dimension.

On the subject of growth, it's true that the word was in the budget treaty, but it was not really pronounced. Sure, there was an intention to hold working meetings. I am happy that the presidential campaign in France and the situation in Europe allowed us to put growth at the heart of our debates.

I am in favour of serious budget policy, I am in favour of meeting our (deficit) targets. But it's because I am in favour of serious budget policies that I am in favour of growth because if there is no growth then no matter what we do we will not meet our debt and deficit reduction targets.
– FRANCOIS HOLLANDE

His message was a hint towards Eurobonds, something which Angela Merkel has rejected as a way of bringing the eurozone crisis under control. The bonds would be issued by the eurozone states together and act in the same way as individual country bonds.

Chancellor Merkel was far more reserved as she spoke about growth.
We signed the fiscal compact in March. Now efforts will revolve around ... growth at the June summit and it will be very important that Germany and France present their ideas together at this summit and prepare closely together.

I always said that on the one side (there is) the fiscal compact, and on the other side we have worked and will work on the topic of growth in January, in March and in June.

The question is who has what in mind. Growth is initially just a general term. Growth has to feed through to the people. And that's why I'm happy that we'll discuss different ideas on how to achieve growth. I'm not worried that there will be common ground and maybe there'll be the one or the other different opinion but ... I look forward to further cooperation.
– ANGELA MERKEL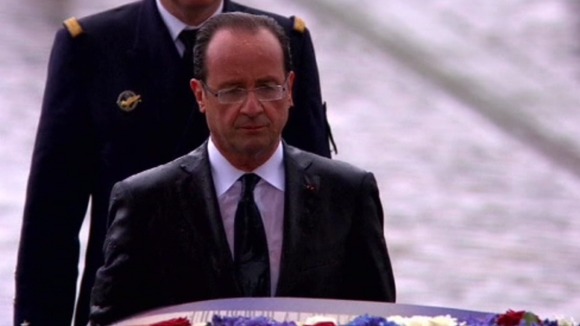 President Hollande was lucky to have made it to Berlin at all. After his inauguration he took part in the traditional visit to the grave of the unknown warrior to leave a wreath before driving through the streets of Paris during a heavy rainstorm.
When he boarded his plane for his first foreign visit as president it was forced to turn back to Paris after it was struck by lightning. He boarded a second plane and made it to Berlin just over an hour late for the meeting.