'New Banksy' artwork appears ahead of Diamond Jubilee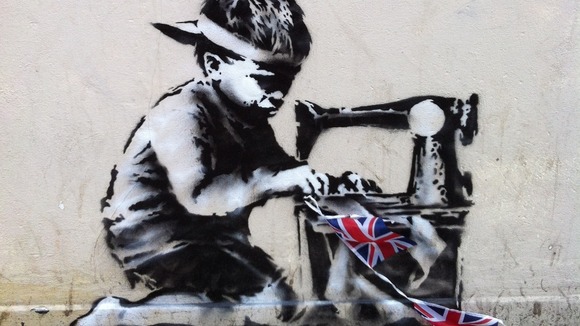 A new artwork purportedly by Banksy has appeared in London ahead of the Queen's Diamond Jubilee.
The picture shows an Asian boy hunched over a sewing machine making Union Jack bunting, in an apparent nod to a summer that will see the Diamond Jubilee and Olympic Games celebrated in Britain.
The trademark artwork was painted on the side of a Poundland store near Turnpike Lane in north London.
The store launched an inquiry in 2010 when it was discovered that a boy worked 100 hour weeks in an Indian sweatshop.
Art blogs and critics have responded to the mural:
The piece was spotted on Turnpike Lane in London, and it seems that Mr Banksy is commenting on the fact that the Union Jack you buy is made by a kid with a really good sense of headwear style. We kid ... or we don't.
– Juxtapoz.com
[The artwork] features a young boy kneeling at a sewing machine with a garland of miniature Union Jack flags passing through it; the apparent commentary on child labor might explain the mural's location, on the side of a store that launched an inquiry in 2010 into sweatshop labor employed by one of its suppliers.
– ARTINFO.com
The web has been abuzz all afternoon with chatter of a new Banksy street art piece in North London. According to locals this piece appeared some time in early hours this morning on the side of Poundland on Whymark Avenue in Turnpike Lane.

This piece has not officially been confirmed as a Banksy piece, but with the Queen's upcoming Diamond Jubilee, the location of this piece and the style and cut of the stencil it is highly likely that it's the work of Banksy.
– Hookedblog.co.uk

The response from people on Twitter has been generally positive:

Apparently Banksy painted this on Sunday while we were all drinking/sleeping/scratching. The talented so-and-so. #art http://t.co/uDgqdRnZ