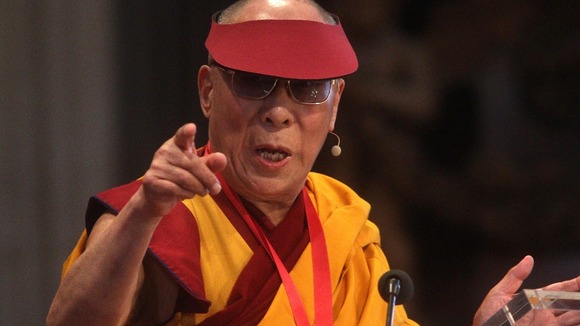 Today's English language edition of The Global Times, a State run newspaper, carries an article calling for "high level communications" between the UK and China to be suspended for a "certain time".
Adding that "Reducing economic co-operation will bring damage to both sides, but for China, it's necessary to safeguard national unification". Similar articles are also in the Chinese edition.
Why the angry rhetoric? The meeting this week between David Cameron and the Dalai Lama, who has been in the UK to collect a £1 Million peace prize, has predictably soured relations between Downing Street and China.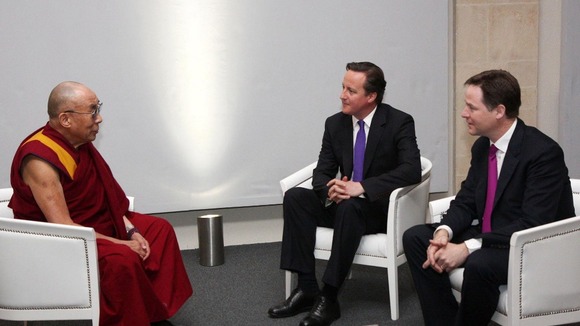 Whenever a national leader meets the Dalai Lama there is a similar reaction from Beijing. China's leaders regard the Tibetan spiritual leader as a 'separatist' and the head of a 'feudal system' - he is seen as some kind of religious terrorist leader. Think China's version of Osama Bin Laden.
The article goes on to say:
The meeting was deliberately arranged by Britain. The Cameron Government clearly knows it could bring damning risks to Sino-British relations. China must take corresponding punitive actions against Britain.
Yesterday the British Ambassador was summoned to see the Vice Minister of Foreign Affairs, Song Tao. Sebastian Wood was told the meeting between David Cameron and the Dalai was a "serious interference in China's internal affairs".
Cue Foreign Office minister Jeremy Brown, heading to Beijing, due to arrive tomorrow.
The Minister intends, we are told, to raise the issues of Human Rights, the Rule of Law and Reform. Red rags when China is bullish over the Dalai Lama visit.
Mr Browne was also the minister who was in Chongqing the day the UK Consulate in the city was told, by fax, that the body of British businessman Neil Heywood had been found. At the same time Mr Browne was meeting Bo Xilai, then the Party Chief of the city, the husband of the woman accused of murdering Mr Heywood.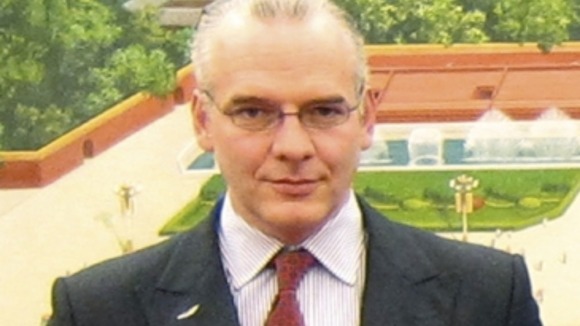 This mood is not going to get any better, the Dalai Lama is due back in Britain next month.
As I blogged about before, none of this will help Cameron's expected visit to China this year. An official high level trip that was meant to happen before the Olympics.