Not Bruno or Borat but Baron Cohen: Rare interview as himself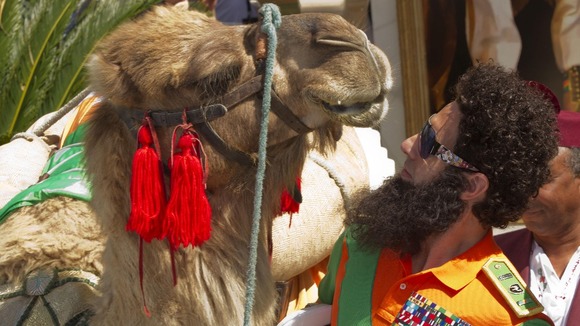 Despite giving hundreds of interviews as Borat, Bruno and Ali G, Sacha Baron Cohen has only ever given two interviews as himself, until now.
The British actor has granted his third appearance out of character to NBC when he spoke to Today's Ann Curry. He explained why appearing without a character is such a rare event:
Well, the movies that I did up until now, they involved real people and so we wanted to limit the exposure of for lawsuits -- at the moment I think I have the Guinness World Record for most sued actor in history," he said with a smile.

But basically if people saw that I was me, and that Borat was not a real person, beforehand, then they could injunct the movie and shut the movie down.
– Sacha Baron Cohen

Watch the full interview here.

He went on to explain that his latest creation 'The Dictator' was different and so he is more free to be himself.

'The Dictator' of fictional country Wadiya, has already made himself known at the Cannes film festival when he held a press conference outside his hotel, flanked by two female bodyguards.

After the press conference he mounted his camel to do a little shopping down the famous Croisette.

As he slowly made his way down the street, Baron Cohen was mobbed by dozens of photographers, bringing traffic to a halt and drawing the attention of police.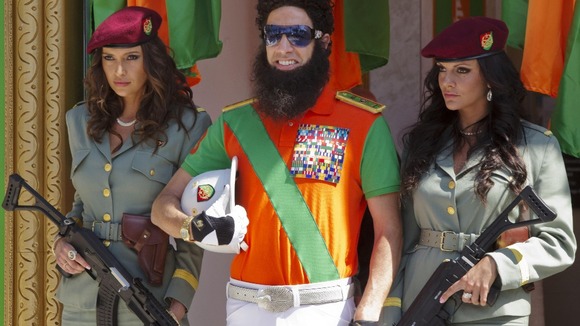 The comedian also said that after his most infamous stunt at this year's Oscars when he spilled ashes over presenter Ryan Seacrest he has made amends. Saying he sent Seacrest a new jacket:
There was a little label inside 'made by slave child labour in Wadiya.' But he never sent me a thank you note - unbelievable.
– Sacha Baron Cohen

Watch the full interview on MSNBC.

The Dictator opens in cinemas on 16th May.