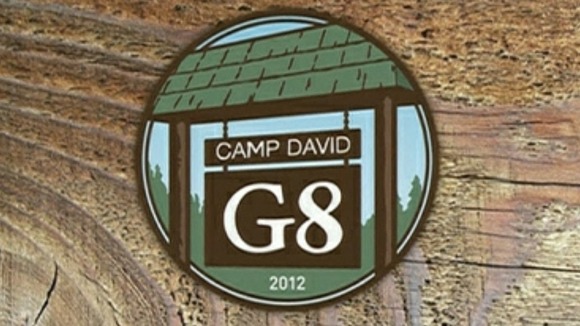 The G8 leaders have stressed the importance of a "strong and cohesive" eurozone and reaffirmed their interest in Greece remaining a member while honouring its commitments commitments to tackle its deficit.
We all have an interest in the success of specific measures to strengthen the resilience of the eurozone and growth in Europe.

We support euro area leaders' resolve to address the strains in the eurozone in a credible and timely manner and in a manner that fosters confidence, stability and growth.
The summit host, President Barack Obama, emphasised the importance of countries being "absolutely committed" to restoring stability and economic growth while repairing their public finances.
Opening the main working session of the day, Mr Obama also made clear that the world was looking for a solution amid fears a disorderly Greek exit from the single currency could trigger another global financial collapse.
Speaking from Camp David, Prime Minister David Cameron said the eurozone nations needed to heed calls from around the world for "decisive action" to end the turmoil.
Mr Cameron refused to be drawn into criticising German Chancellor Angela Merkel for blocking a rescue package for the eurozone.
However, he indicated that he would like to see the European Central Bank do more to stimulate demand.
I think the German chancellor is absolutely right that every country needs to have in place strong plans for dealing with their deficits," he said.

Growth and austerity aren't alternatives. You need a deficit reduction plan in order to get growth, in order to have the low interest rates that we have in Britain and are vital for the future of our economy.

But clearly, just as Britain benefits from a strong government with a strong deficit reduction plan and strong banks but also an independent monetary policy giving us low interest rates, helping to push demand in the economy, so the euro zone I believe needs that approach as well,
On Sunday the group moves on to the Nato summit in Chicago where the focus will be on Afghanistan as international forces move towards withdrawal by the end of 2014.