Beckham's pride in bringing the Olympic Flame to Britain
David Beckham has spoken of the "huge honour" it was for him to bring the Olympic Flame from Athens to the UK.
The LA Galaxy midfielder will be hoping to be named in Stuart Pearce's Olympic British football squad, the first competing in the Games since 1960.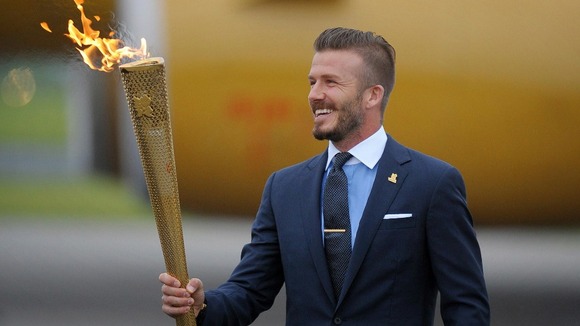 Speaking at the 27th annual Sports Spectacular gala in Los Angeles - just hours after his team lost to Chivas USA - Beckham told of his pride in bringing the Flame to the UK.
It was incredible.

To bring the flame back from Athens into England was a huge honor for myself and I'm very proud of that.
The former Manchester United player also seemed to rule out a future in management, saying he would prefer to coach children when he retires from football.
People always ask me what I want to do when I've finished playing, and they say, 'Do I want to go into management?'

To be honest I've never wanted to go into management. I love coaching kids, I love working with kids. They're amazing people. They're amazingly truthful, young people, and that's what I love doing."
The Cedars-Sinai Medical Genetics Institute's fundraiser honoured Beckham and other sports stars in raising awareness in combating genetic birth defects in children.