Jedward have made it through to the final of the Eurovision Song Contest after an energetic performance in Azerbaijan's capital Baku.
18 countries are competing in two semi-final. They will be whittled down to ten, who will perform at the Grand Final on Saturday night.
Jedward were representing Ireland in the competition for the second time and are hoping to beat their last performance, which left them in eighth place.
Their rendition of Waterline was the final performance of the evening and featured a real water fountain.
They were delighted to get through the semis:
Team Jedward all around the World you are the reason...you are the reason! why we are in the Eurovision Final and we are doing it for you!
we are incredibly honored to be able to Rock the World and we promise you wonderful and fantastical things to come! JEPIC!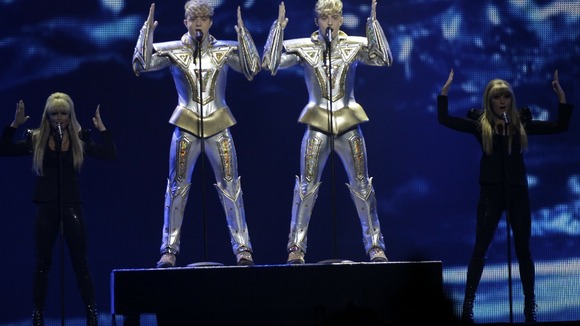 The most anticipated act of the evening was that of Russia - which has come to be known affectionately as the Russian Grannies.
Buranovskiye Babushki - which translates as 'Buranovo Grannies' - performed 'Party For Everybody' in a mixture of English and their native dialect of Udmurt. Their performance featured a rotating wood-burning over and a tray of baked goods.
The six members of the group have promised to donate any prize money to the building of a church in their home town, and they came a step closer to that goal when they were voted through to the final.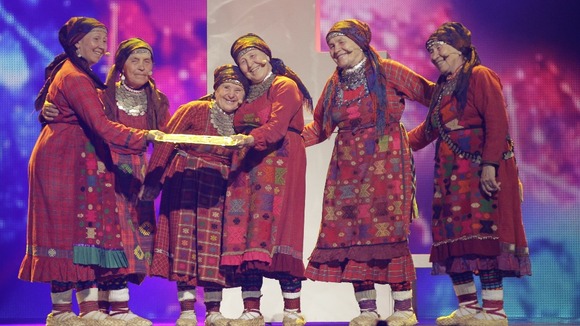 The competition got of to a topical start with Montenegro's Rambo Amadeus rapping a baffling diatribe instructing "eurosceptics" not to be "hermetic" in order to save the "children of evolution". Timely advice indeed.
Despite not making the final list of ten, Montenegro seemed to provoke the most passionate response on Twitter.
The Montenegro #Eurovision song is one of the worst things to ever happen in the history of music. @sarahjanecat looks upset.
Montenegro appear to have re-invented the wondrous horse of Troy as a donkey with a sweaty man singing incoherently around it #eurovision
This is AMAZING. It's like David Brent crossed with The Mighty Boosh. I vote Montenegro!!! #eurovision
The full list of finalists from today's competition is below. The second semi-final will be held tomorrow, before the Grand Final on Saturday.
Romania
Moldova
Iceland
Hungary
Denmark
Albania
Cyprus
Greece
Russia
Ireland