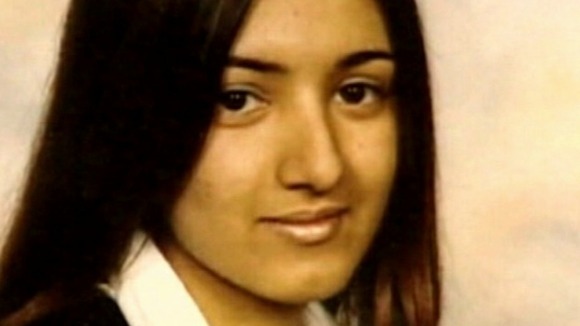 A teenager told police how she saw her mother and father murder her sister by forcing a bag into her mouth and suffocating her, a court heard today.
Iftikhar Ahmed, 52, and his wife Faranza, 49, are accused of killing their daughter Shafilea Ahmed in a suspected honour killing at their family home in Warrington in 2003. Both deny the charges.
Shafilea's younger sister Alesha allegedly witnessed the murder but did not tell police until 2010 when she was arrested in connection with an unrelated robbery at her parents' home.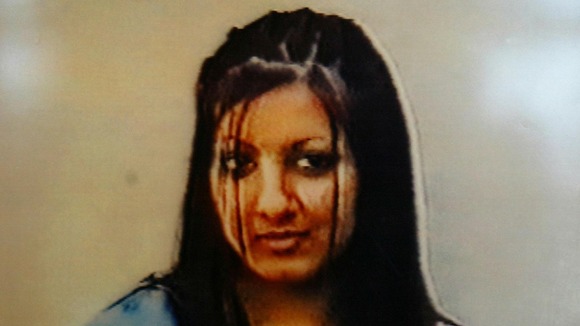 The prosecutor Andrew Edis QC told Chester Crown Court: "She (Alesha) describes what is an act of suffocation by both her parents acting together."
He said they put their hands over her face "to close her airways so she could not breathe," adding that "she had a bag forced into her mouth."
Alesha then allegedly saw her father moving a bundle wrapped in bin liners, which she assumed was her sister's body, into a car.
Mr Edis said Alesha, who is on witness protection, was awaiting sentence on the robbery charge and added: "She hasn't received any promises or indeed any inducement prior to when she first made these allegations."
He described her disclosure as a "bombshell" and said it was either the truth or "a wicked lie made up to help herself".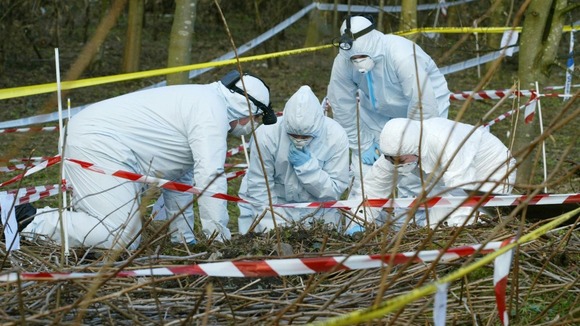 Today, 22-year-old Alesha started giving her testimony to the court.
Speaking from behind a purple screen just metres from her parents, Ms Ahmed told the court her parents were very restrictive and there was often conflict over what Shafilea would wear, her friends and who she was speaking to on the phone. She said:
Shafilea was leading a life she thought our parents would not approve of ... There would be physical abuse directed at Shafilea. It was both of them. My mum more because she was at home more.
She also recalled one incident involving a knife:
There was an incident in the kitchen, she had her hair in a plait and my parents had a knife to scare her.They passed the knife between them. I was in the kitchen then ran off. They were just hitting her. It was frantic and out of control and she just sat there taking it. The knife was used to scare her. After I saw she had marks on her neck.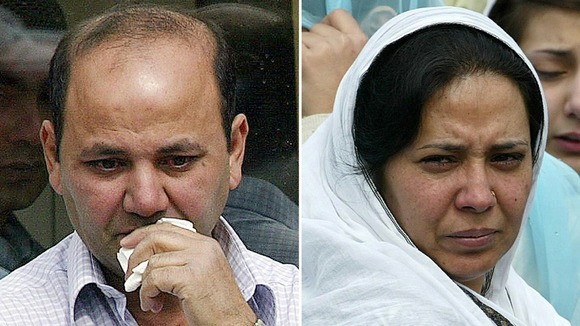 In 2003, the Ahmed family travelled back to Pakistan. Ms Ahmed said that Shafilea had run away in the weeks before, and made clear she did not want to go.
She told the court that on the morning the family were due to leave, she overheard her mother and uncle talking about the preparation and use of a sedative called Nasha.
I knew it meant the person wouldn't really know what's going on. Then I saw my mum bring it upstairs to my sister. I think my sister just thought mum was being nice and she drank it all. She just started to agree with everything and was quite slow. At the airport she was leaning on the trollies. It wasn't enough to make someone stop her though, it wouldn't have been obvious to the public.
Earlier, Andrew Edis QC for the prosecution, told the jury that Iftikhar and Faranza murdered their daughter when their abuse did not appear to have any effect on her. He told the court:
The defendants, having spent the best part of 12 months trying to really crush her, realised they were never going to be able to succeed and finally killed her because her conduct dishonoured the family, bringing shame on them.
The court heard that police placed a covert listening device in the home of the Ahmeds in November 2003 when Shafilea was still believed to be missing.
In conversations with her other children, Farzana can be heard telling her son: "If the slightest thing comes out of your mouth, we will be stuck in real trouble. Remember that."
Andrew Edis QC said that Shafilea's body had been stripped of anything that might be used to identify her. He said this was "consistent with the killer being someone she knew".
The case continues tomorrow.