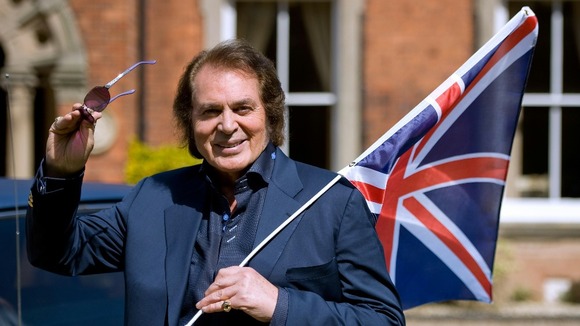 Engelbert Humperdinck is one of the favourites to win tomorrow's Eurovision Song Contest in Baku, Azerbijan.
The oldest man to ever enter the contest says he is confident he can reverse our recent miserable Eurovision fortunes and bring the title back to the UK for the first time in fifteen years.
Steve Hargrave reports on the 76-year-old King of Romance ready to show the Eurovision kids how it is done.
Humperdinck faces stiff competition from a famously fickle Eurovision audience.
Sweden are the favourites to win, but Irish duo Jedward did surprisingly well in the competition in 2011, and have extended their audience throughout eastern Europe over the past year. They came eight place last year, and are confident they can win.
JED WE CAN! EUROVISION FINAL SATURDAY! SONG NUMBER 23 WATERLINE! JEDWARD IRELAND!
Last year more than 120 million people watched the competition across more than 55 countries.
Humperdinck is a global star, with a huge international appeal. Having sold over 150 million records worldwide over a 45 year career he is one of the biggest stars to ever enter the competition. He said:
It's an absolute honour to be representing my country for this year's Eurovision Song Contest. When the BBC approached me, it just felt right for me to be a part of an institution like Eurovision. I'm excited and raring to go and want the nation to get behind me!"
Humperdinck told ITV Meridian he was "amazed at the support from fans" and said he rated his prospects for winning as "good".
The UK has participated in the Eurovision Song Contest 55 times; we automatically qualify each year.
We first participated in the competition in 1957 in Frankfurt, and have won a total of five times, but have struggled to place in recent years. Our last victories:
1997 in Dublin, Katrina and The Waves sang Love Shine A Light
1981 in Dublin, Bucks Fizz sang Making Your Mind Up
1976 in The Hague, Brotherhood of Man sang Save Your Kisses For Me
1969 in Madrid, Lulu sang Boom Bang-a-bang
1967 in Vienna, Sandi Shaw sang Puppet On A String
Humperdinck will be the first performer to take to the stage in Baku. Here is the final running order:
United Kingdom
Hungary
Albania
Lithuania
Bosnia & Herzegovina
Russia
Iceland
Cyrus
France
Italy
Estonia
Norway
Azerbaijan
Romania
Denmark
Greece
Sweden
Turkey
Spain
Germany
Sweden
Turkey
Spain
Germany
Malta
FYR Macedonia
Ireland
Serbia
Ukraine
Moldova
And here is the tune that will hopefully set European hearts on fire: