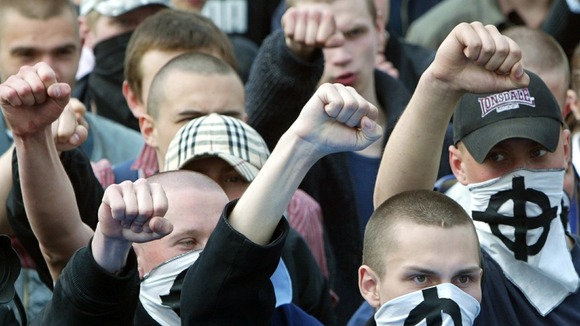 Only 6,000 England fans are due to travel to Ukraine for the three Euro 2012 group games. Former England defender Sol Campbell has warned black or Asian fans not to risk going to Ukraine and Kevin Miles, international director for the Football Supporters' Federation said while they would not go that far, they would urge caution. Campbell gave his advice to fans in an interview with BBC Panorama:
Stay at home, watch it on TV. Don't even risk it... because you could end up coming back in a coffin.
– Sol Campbell

Kevin Miles from the Football Supporters' Federation said UEFA need to think more about the experience of the supporters when deciding who should host tournaments. He said UEFA are squarely to blame for the low-turnout.
The threat of racism is one of the issues behind the small number of England fans expected to attend the tournament.

The process of awarding these tournaments should give greater consideration to what the experience of the supporters would be - transport, accommodation cost and is the environment welcoming to fans of all backgrounds and sexual orientation.

Instead the 2022 World Cup has gone to Qatar where homosexuality is illegal and Euro 2012 to Ukraine where there racism on the streets is a problem.
– Kevin Miles, Football Supporters' Federation

The biggest turnout of England fans will be just 6,000 for the Sweden match, fewer than travelled to South Africa and Japan. That contrasts with up to 20,000 Irish fans.
It's certainly the lowest England turn-out for a European tournament
– Kevin Miles, Football Supporters' Federation

ITV News' Europe Correspondent Martin Geissler has reported that Ukrainian citizens feel that "police in the country are corrupt" and asks police at a conference whether they would cater to travelling football fans.

Blackpool footballer and ambassador for the Kick It Out campaign against racism in football, Clarke Carlisle said he understands why families of players are going to stay away.

He says he experienced the threat of racism himself when he was in Poland recently and advised those fans who did decide to travel to make a concerted effort to be aware of their surroundings, and keep themselves safe.