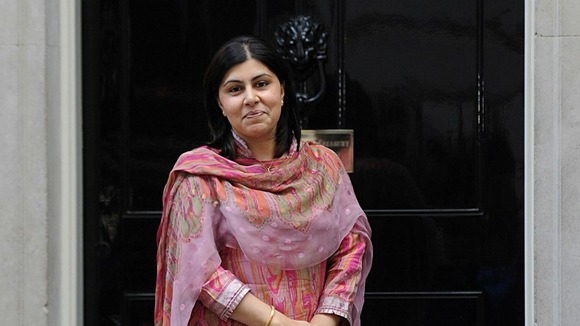 Baroness Sayeeda Warsi, the first Muslim woman to hold a cabinet position in Britain, is fighting back against allegations that she made improper expense claims.
She has asked the Lords Commissioner for Standards to investigate allegations she claimed up to £165.50 a night while staying at a house belonging to Dr Wafik Moustafa. The watchdog said they are deciding whether they need to investigate.
Prime Minister David Cameron has backed the Baroness, saying the claims were made were "both in accordance with the law and the spirit of the rules."
During an official visit to Malaysia, Lady Warsi told ITV News she is taking the allegations made against her "very seriously".
Earlier today she wrote to the Standards Commissioner Mr Kernaghan, saying:
I strongly reject any suggestion that my claims for House of Lords allowances were in any way improper. My claims reflected the fact that as a peer whose main home was outside London, I incurred costs when staying in London overnight to attend the House of Lords. These included payments to Naweed Khan for the inconvenience and additional expense to which he was put when I stayed with him.

Nonetheless, in order to provide reassurance to the public that this matter has been considered dispassionately and independently, I would like to invite you to examine the substance of the allegations.
The row erupted after the owner of a house Baroness Warsi stayed in during 2008 said he did not receive any payment. Baroness Warsi insisted she made an "appropriate payment" to her friend, Tory official Naweed Khan, for the nights she stayed at the property in Acton, west London.
Mr Khan supported her assertion, releasing a statement saying she made a payment each time she stayed. Baroness Warsi said:
For the nights that I stayed as a guest of Naweed Khan, I made an appropriate financial payment equivalent to what I was paying at the time in hotel costs. In March 2008, I moved into the flat in Wembley.

As I was living in the property, it was therefore not registrable on the Register of Lords' Interests. Upon becoming a Minister, however, my ownership of this property was fully disclosed to the Cabinet Office.
However the owner, Dr Wafik Moustafa, told ITV News on Sunday he did not receive any payment.
A Conservative party spokesman said Lady Warsi spent around 12 nights at the house over a period of about six weeks, and believed she was a guest of Mr Khan, now one of her aides, rather than Dr Moustafa.
There has been some speculation that Dr Moustafa holds a personal grudge against Lady Warsi and is angry over the party's refusal to recognise a group he founded, the Conservative Arab Network.
Separately, Warsi has said she failed to declare rental income on an apartment she owns in the Register of Lords' Interests, as the rules required. She said she took full responsibility for the "oversight" and had now put things right.