The list of countries that have expelled senior Syrian diplomats has grown throughout the day as reaction to the Houla massacre is felt by the regime.
So far the countries that have expelled Syrian Charge d'Affaires are:
UK
U.S.A
Netherlands
Italy
Canada
Germany
France
Australia
Bulgaria
Switzerland
Japan
Turkey
Syria's foreign ministry expelled the Charge d'affaires for the Netherlands and giving her 72 hours to leave, according to state TV.
Bulgaria has also closed its mission in Damascus and recalled the diplomats there.
The State Department in the U.S. issued the following statement as it expelled the Syrian Charge d'Affaires:
We hold the Syrian government responsible for this slaughter of innocent lives. This massacre is the most unambiguous indictment to date of the Syrian government's flagrant violations of its UN Security Council obligations under Resolutions 2042 and 2043.

We encourage all countries to condemn the actions of the Assad regime through similar action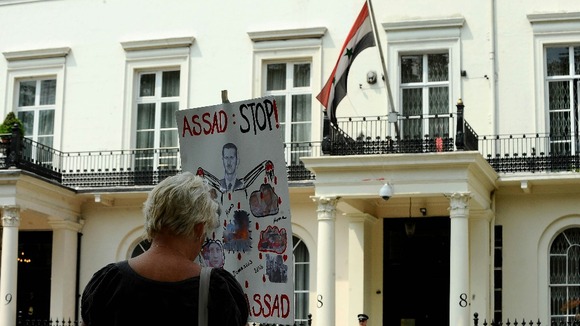 Russia and China have both refused to dismiss Syrian dimplomats and said that they will not supoport military action:
China opposes military intervention and does not support forced regime change.

The fundamental route to resolving [the crisis] is still for all sides to fully support [Kofi] Annan's mediation efforts.
– Liu Weimin, Chinese Foreign Ministry spokesman
The expulsion of Syrian ambassadors from the capitals of several leading Western states seems like a counterproductive step to us.
– Russian Foreign Ministry spokesman Alexander Lukashevich