Tower Bridge lightshow for London 2012 Olympic Games
Tower Bridge, one of the most famous landmarks in the capital, has been given a glittering makeover ahead of the London 2012 Olympic and Paralympic Games.
The state-of-the-art lighting system, which is aimed at brightening the bridge and picking out its architectural features, had its first switch-on last night.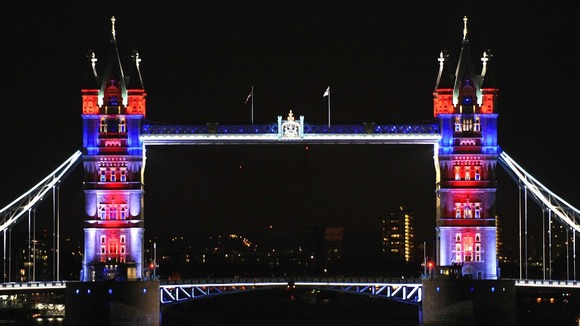 Coloured bulbs, which vary in intensity, beamed from the central London landmark where giant Olympic Rings and the Paralympic Agitos, the swirling symbol of the Paralympics, will shine during the London 2012 Games.
The lights will shine white this weekend to mark the Queen's Diamond Jubilee.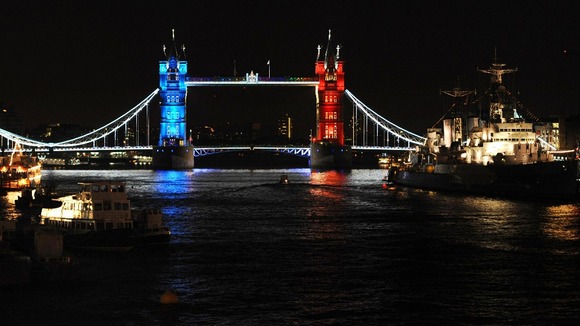 Work began in November to fit the 1,800 special energy-efficient LED lights, 6,562ft of energy-efficient LED linear lights, 16,404ft of cable and 1,000 junction boxes. The lights will be in place for 25 years.
London Mayor Boris Johnson predicted that Tower Bridge is now set to play "a starring role" in the 2012 celebrations:
Tower Bridge is already a global icon and this much-loved landmark is now even more spectacular thanks to a world-class illumination system.

As London gears up for a summer like no other, this fantastic lighting makeover is another example of how the capital is benefiting from the Games.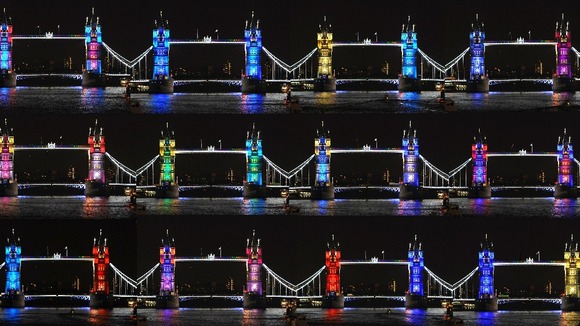 It is to be funded through a deal between the Mayor, City of London and London 2012 sponsors GE and EDF.