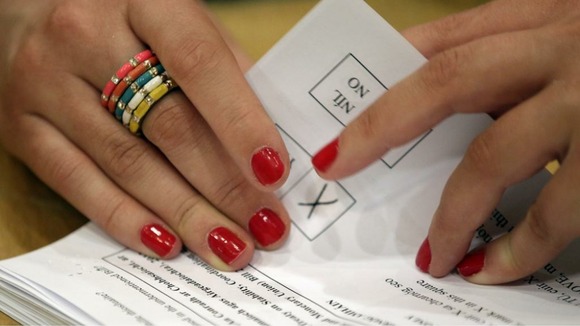 Ireland has given a resounding endorsement to tough new budget controls under the European fiscal treaty - but it was a reluctant yes.
Official referendum figures declared at the Dublin Castle count centre showed the controversial pact was backed by a margin of 326,003 votes, or 60.3% in favour.
Five of Ireland's 43 constituencies rejected the plan including both electoral regions of Donegal and three others in Dublin, one of which is home to two ministers.
Returning officer Riona Ni Flanghaile announced a total of 955,091 votes in favour compared with 629,088 against the agreement.
Our Political Correspondent Libby Wiener wrote in her blog:
Irish voters may have backed the new Fiscal Treaty by a comfortable margin but many did so through gritted teeth.

No-one wants more austerity, that's certain. This country has already endured four years of cuts. But voters here clearly believed that the treaty was the lesser of two evils.
In his first response to the resounding victory, Irish Prime Minister Enda Kenny said Ireland's bank debt must be included in future discussions to revive the wider European economy.
The Irish people have sent a powerful signal around the world that this is a country serious about overcoming our economic challenges.

The treaty will not solve all economic problems but it is a foundation stone to make sure the economy stands on firm ground.
– Irish Prime Minister Enda Kenny

He said the result would help bring stability and credibility and ensure Ireland has access to funding under the European Stability Mechanism (ESM) if needed.