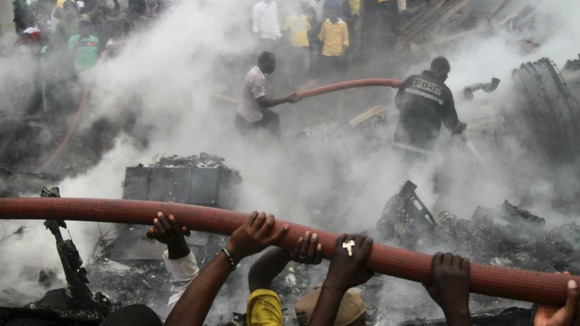 A passenger plane carrying 153 people crashed in a densely populated neighbourhood of Lagos, Nigeria's largest city, on Sunday, government officials have said.
Nigeria's Civil Aviation Authority said that all passengers on board the plane that was flying from the capital Abuja to Lagos have been killed.
Damian Green reports on the crash:
A spokesman for Nigeria's national emergency management agency said they were still trying to get an official flight manifest.
He also said there were likely more casualties on the ground.
Nigeria's President Goodluck Jonathan has declared three days of mourning.
Following the tragedy, Foreign Office Minister Henry Bellingham offered his condolences on behalf of the UK.
The Minister for Africa said:
I wish to express my extreme sadness at the news of the aeroplane crash in Lagos, Nigeria."My heartfelt sympathies go out to the families of the bereaved and those injured. My thoughts are with the Nigerian people at this tragic time."
Earlier, Associated Press reporter Jon Gambrell tweeted updates from the crash scene.
Many continue to come to the site even after dark, worrying about loved ones on the flight.
The fumes from the crash were noxious, stinging the eyes. My tennis shoes burned from standing on smoldering debris.
Witnesses said the plane crashed around 3:45 pm local time. It smashed through several building belly-up.
An eyewitness at the site of a plane crash in the Nigerian city of Lagos said that she had to literally move out the way as the oncoming plane crashed into nearby buildings.
The tragedy is the latest in a number of fatal plane crashes in Nigeria over the past decade.
In October 2006, 96 people were killed after a flight from Abuja to Sokoto crashed.
This came after two horrific crashes in October and December 2005, which killed 117 and 107 people respectively.