Driver jailed for 'using car as a weapon'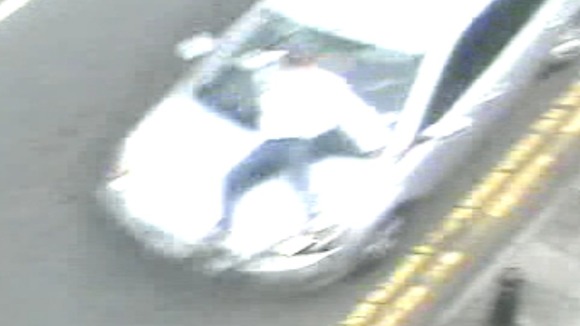 A woman who "used her car as a weapon" and drove through Falkirk town centre with a man clinging on to the bonnet of her car has been jailed for four years and three months.
37-year-old Suzanne Gilchrist from Edinburgh previously pleaded guilty to striking and driving 285 metres with a man holding on to the bonnet of her car. The mother of one drove into 22-year-old Stuart Morris as she was trying to escape from a security officer at the Howgate Shopping Centre in Falkirk.
Ms Gilchrist was driving away as the security guard tried to open her driver's door and snatch her keys from the ignition. The security guard was trying to speak to her about an alleged theft from Boots.
Mr Morris, an "unconnected passer by", was walking across a street Ms Gilchrist was speeding down. He was struck by her car and jumped on her bonnet. He held on as she swerved and sped away from the shopping centre. His lawyer described what happened next.
She was driving really fast, swerving over the road, and trying to force him off thebonnet. Her wheels were spinning as she turned from Manor Street into Princes Street in the town centre and she never even tried to stop at the junction.
– Emma White, prosecutor

She eventually stopped at a second set of traffic lights. Mr Morris then stood up on top of the bonnet and began kicking the windscreen of the car. He later told police he tried to smash the windscreen as he was scared and his "adrenaline was going."

The security guard, who had been following on foot, ran up and again tried to open the car door again and managed to tackle 37-year-old Gilchrist to the floor. Police then arrived and she was arrested.

In total she had drove 285 metres with Mr Morris clinging on to her car bonnet.

Gilchrist's lawyer said she was suffering from "some sort of hormonal imbalance" and believed her life was in danger.
She had thought that she was pregnant and was obviously suffering from some sort of hormonal imbalance, and was on such a knife-edge that she panicked. She was hysterical. She thought Mr Morris had walked out in front of her trying tomake her stop. She extends to him her unreserved apology.
– Rhona McLeod, defence lawyer

Les Brown, procurator fiscal (public prosecutor) for Stirling said:
She used her car as a weapon, and her driving could have led to his death. Such needless endangerment of life is taken extremely seriously by the prosecution service, and she has rightly been brought to face the full force of the law.
– Lee Brown, procurator fiscal for Stirling