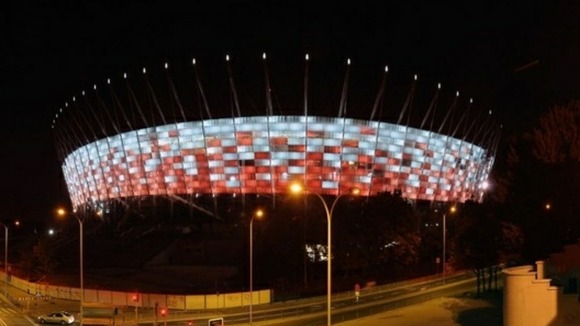 Poland
Capital: Warsaw.
Population: 38.5 million (2011 census).
President: Bronislaw Komorowski.
Currency: Zloty.
Exchange rate: £1 = 5.41 zloty.
Word for 'hello': Czesc.
Odd Fact: Poland is home to 17 Nobel prize winners, including five in literature and four in peace.
Poznan, Poland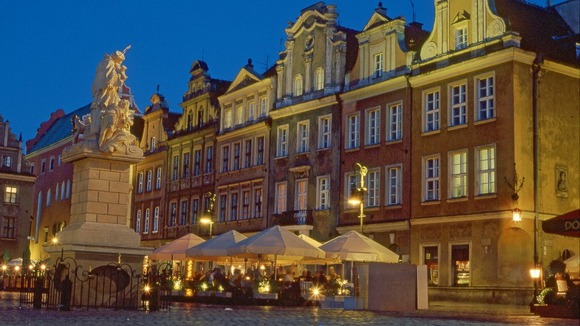 Things to do:
Though the word Poznan is most famous in the UK for Manchester City fans celebrations, the Polish city has lots to offer. The Old Town contains most of Poznan's tourist attractions.
The focal point of the square is the town hall - which is home to the Historical Museum of Poznan - and at noon every day two metal goats appear from small doors and butt heads 12 times.
The cradle of Poznan, Ostrów Tumski - which is a Cathedral Island where Prince Mieszko I accepted Christianity on behalf of Poland - is just under a mile away from the Old Town.
What the experts Lonely Planet say:
If you arrive in Poznan any evening and stroll into its central market square, you'll receive an instant introduction to the characteristic energy of Wielkopolska's capital.

The city's Old Town district is buzzing at any time of the day, and positively jumping by night, full of people heading to its many restaurants, pubs and clubs.
– Lonely Plant

Transport:

The airport is around 4 miles from Poznan and has daily flights to the capital Warsaw and good links with Dublin and England.

Poznan's railway station is in the centre of the city and offers regular services to other Euro 2012 cities. The travel times are:
To Wroclaw - 2.5 hours.
To Gdansk - 4 hours.
To Warsaw - 3 to 4 hours.
To Kiev (Ukraine) - 18 hours.
Trams and buses run in the city with tickets available from kiosks, shops and MPK (Polish transport company) outlets. MPK also hire out bicycles.
Fan Zone:
Poznan's 30,000 capacity fan zone will be located in Plac Wolnosci - which translates to Freedom Square - and will be open from midday to 1am on matchdays, showing all 31 games live. Entry is free and there will be other entertainment, including concerts and DJs.
Gdansk, Poland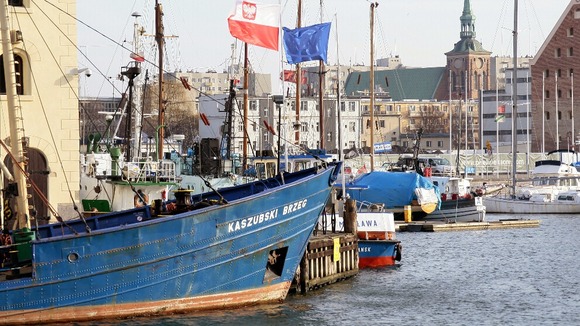 Things to do:
Gdansk is home to the largest port crane in Medieval Europe (below) and has a proud nautical history, with it being home to the museum ship SS Soldek, which is anchored on the Motlawa river. At the shipyard's entrance stands a monument to its workers.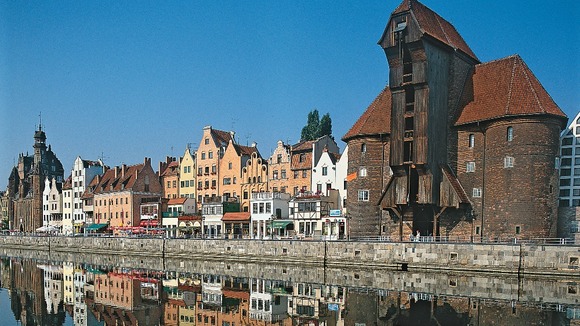 The maritime city - which Napoleon once said was "key to everything" - also is the home of the largest brick church in the world - Bazylika Mariacka (St Mary's).
What the experts www.tripadvisor.co.uk say:
One of Poland's most beautiful cities, Gdansk, on the Baltic Sea, has played major roles in history, especially in the 20th-century. It was the 1939 flash point of World War II, and then in 1980, the birthplace of the Solidarnosc labor movement, ushering the end of Communist domination in Eastern Europe.

Gdansk's Old Town, painstakingly reconstructed to its Hanseatic League glory after being leveled in World War II, is a highlight. The 14th-century Town Hall houses the city's historical museum.
– www.tripadvisor.co.uk

Transport:

The airport is 9 miles from the city and has regular flights to London. Gdansk's train station has daily services to other Euro 2012 cities. The travel times are:
To Warsaw - 4.5 hours.
To Wroclaw - 7.5 hours.
To Poznan - 4 hours.
Fan Zone:
Gdansk's fan zone - Plac Zebran Ludowych - will be located next to the railway and bus stations and is only seven miles away from the city's airport. The zone can host 30,000 people and will show all Euro 2012 matches live.
Wroclaw, Poland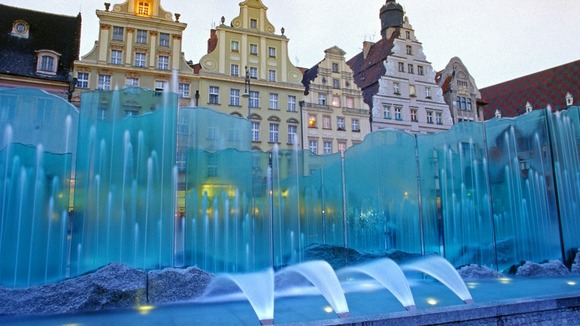 Things to do:
Wroclaw is home of the second largest square in Poland, called the Rynek. It took 200 years to build and has three internal streets.
The raclawice panorama is a 114 metre-round panoramic painting that depicts the 1794 battle of Raclawice - when Polish peasants defeated the Russian army.
What the experts Rough Guides say:
Lower Silesia's historic capital, Wroclaw is the fourth-largest city in Poland, with an exhilarating big city feel to it. However, behind this animated appearance lies an extraordinary story of ruin and regeneration.

Its special nature comes from the fact that it contains the souls of two great cities.

One of these is the city that has long stood on this spot, Slav by origin but for centuries German (who knew it as Breslau). The other is Lwów (now L'viv), capital of Polish Ukraine, which was annexed by the Soviets in 1939 and retained by them in 1945.
– Rough Guides

Transport:

Copernicus Airport is eight miles from the city and has regular flights to Dublin and the United Kingdom. There are daily services from Wroclaw to the capital. Here are the travel times to other Euro 2012 cities:
To Poznan - 2.5 hours.
To Gdansk - 7.5 hours.
To Warsaw - 5 hours.
The tourist office in Rynek rents bicycles and Wroclaw is well serviced by buses and trams.
Fan Zone:
Wroclaw's fan zone Plac Rynek - which translates to Market Square - will hold 30,000 people and is open from 10am on the morning of matchdays.
Warsaw, Poland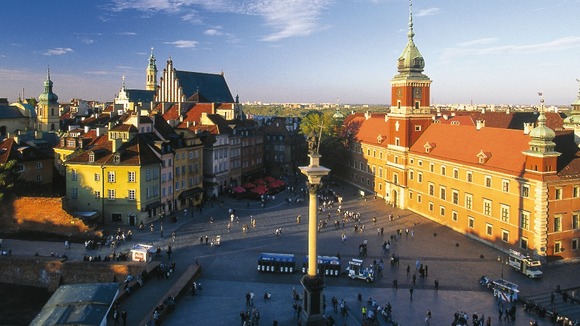 Things to do:
The Royal Castle in Warsaw's main square the Old Town, was blown up during World War Two and was rebuilt in the years following 1945. The castle - which used to be home to Polish monarchs - was registered as a UNESCO World Heritage Site in 1980.
There are over 60 museums in the city, including the National Museum of Warsaw which is based in the square.
On Midsummer's Night - the evening of June 21/22 - thousands gather on the longest river in Poland, the Vistula, for the festival of Wianki, where people let wreaths float in the water and there is a firework show.
What the experts www.worldtravelguide.net say:
Warsaw is a modern metropolis charged with history, with an impressive cultural scene, thriving nightlife and a string of intriguing attractions.

The tourist epicentre of Warsaw is the 'Royal Route', which runs north-south from the New and Old Towns, past the fashionable shops of Nowy ?wiat, the palaces that survived the war and the royal gardens of ?azienki Park, before reaching Wilanów Palace to the south of the city centre.

The strikingly successful rebuilding of Warsaw's Old Town after WWII was rewarded in 1980, when it became a UNESCO World Heritage site.
– www.worldtravelguide.net

Transport:

Warsaw-Fryderyk Chopin Airport is 5 miles from the capital. There are several train stations in Warsaw, the main being Warszawa Centralna in the heart of the city. There are daily services to other Euro 2012 cities, the travel times are:
To Wroclaw - 5 hours.
To Gdansk - 4.5 hours.
To Poznan - Between 3 and 4 hours.
To Lviv (Ukraine) - 14 hours
To Kiev - 15 hours.
There are two main bus stations in Warsaw - Warszawa Stadion, which goes to eastbound destinations and Warszawa Zachodnia, which goes to other destinations including Gdansk and Wroclaw.
The capital's public transport system - buses, trams and the metro - run from 5am to 11pm every day. There are also night buses for the evening.
Fan Zone:
Plac Defilad - Parade Square - is the largest fan zone in the country and is able to hold around 100,000 people and feature six big screens. It is free to enter and will show all 31 matches live.
Krakow, Poland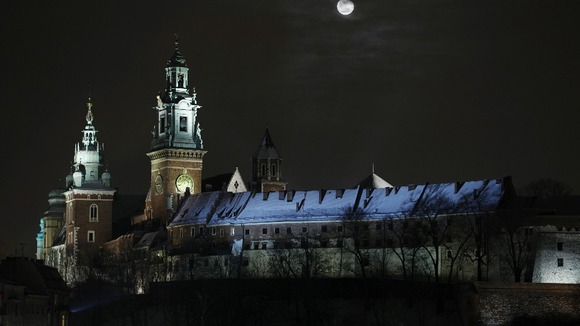 Things to do:
Though not a host city of Euro 2012, Krakow will be England's base throughout the tournament. Krakow has the biggest market square out of all the medieval cities which has many shops and restaurants, as well as historic palaces and churches.
One of the most famous buildings is the Church of the Virgin Mary (Kosciol Mariacki) which has two striking towers and with an impressively luxurious interior covered in gold.
Further out from the city centre is Oskar Schindler's Factory which is a museum that tells the story of the famous man and the Jewish prisoners he helped. A one hour train trip from Krakow will take you to Auschwitz.
What the experts Lonely Planet say:
Krakow, which celebrated its 750th birthday in 2007, is by far Poland's biggest drawcard, and it's immediately apparent why.

As the royal capital for 500 years, the city was able to absorb much history and talent over the centuries and is today a treasure trove of Gothic and Renaissance architecture.

Miraculously, this jewellery box emerged largely intact after WWII. As a result, no other city in Poland can boast so many historic buildings and monuments or such a vast collection of artworks, with some 2.3 million registered.
– Lonely Planet