After spending nearly a day being buffeted by 10 metre waves and gale force winds, British adventurer Sarah Outen has been rescued from her rowing boat in the North Pacific.
As the local Japanese coastguard approached, she expressed her relief on Twitter.
VHF CRACKLING BUT THINK ETA NOW EARLIER.HOORAY4 JAPANESE ALWAYS BEING EARLY!
For the time being, it has stopped her 2-and-a-half year journey to single-handedly go around the world.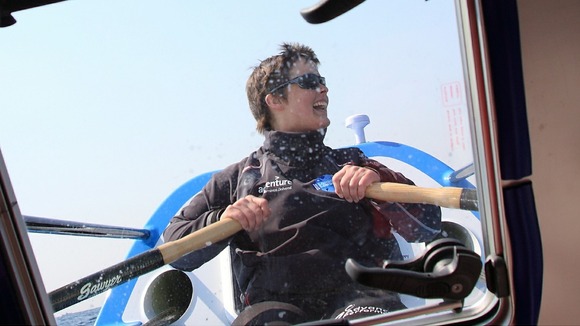 Sarah's 'London2London Via The World' expedition began in April last year and was due to last two-and-a-half years. Writing in her blog today her team said:
Sarah is now safe aboard the recovery vessel sent by the Japanese Coastguard. Sarah is now making her way to back to Japan.

Thank you for all your messages of support and a huge thanks to the Coastguards in Falmouth and Japan for such a swift response and for getting Sarah aboard the recovery vessel safe and sound in difficult sea conditions.

We are awaiting final confirmation of details of Sarah's arrival in Japan and will let you know more once we have further information.
– London2London team

The London2London team stayed in touch with Sarah throughout her voyage which ground to a halt half way round the world.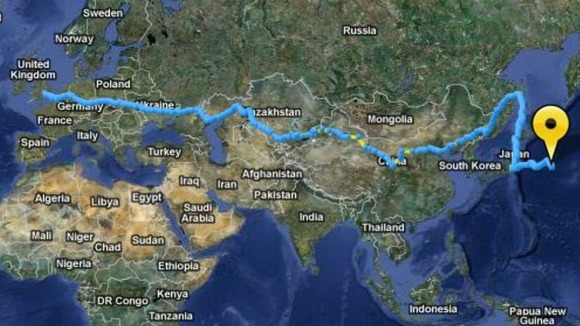 Messages of support have been posted on Sarah's website:
This brave and inspiring adventure is not diminished by this event,we could all do with a portion of sarahs pluck and energy in our lives.
– IAN
You are way braver than me, Sarah. I'm glad you are OK.
– Alastair Humphreys
Amazing woman! Yes to those brave people who expand all our horizons. You are one of those Sarah.
– Steve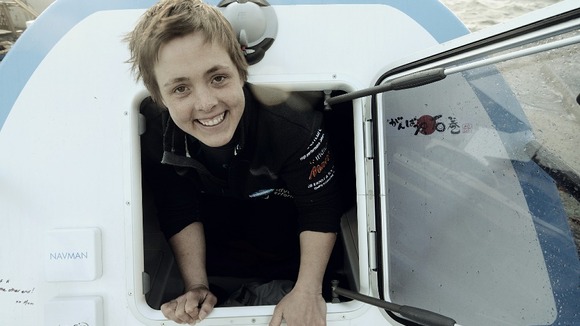 6HRS TO ETA PICKUP.DRESSED IN SURVIVAL SUIT WITH GRABBAG,GULLIVER PROB HAS2 STAY.2 ROUGH2 TAKE HIM.
CARGO SHIP TEXAS HIGHWAY SAT CLOSEBY WATCHING US TILL CG ARRIVES. REASSURING.