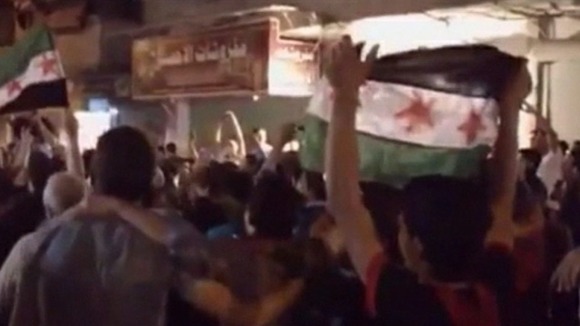 UN Secretary General Ban Ki-Moon says monitors have been shot at while trying to reach the site of an alleged new massacre in Syria.
He called the latest reported killings in Mazraat al-Qubeir "shocking and sickening" and condemned it as "unspeakable barbarity".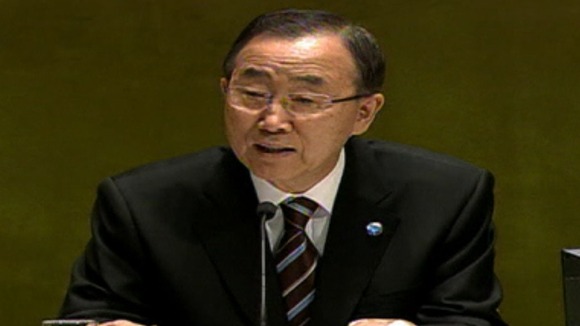 Speaking at the start of a special U.N. General Assembly session Ban Ki-Moon added:
Each day seems to bring new additions to the grim catalogue of atrocities... brutal human rights violations... torture, execution-style killing of whole families. For many months it has been evident that President Assad and his government have lost all legitimacy... The trail of blood leads back to those responsible.
The UN's Syria envoy Kofi Annan also admitted his six-point peace plan is not working. He said:
Let me express my horror and condemnation of the fact that a new massacre of tens of civilians including children was carried out yesterday... my heart goes out to the victims and their families.
Annan's view was backed up by Foreign Secretary William Hague who added that the reports of a massacre were "another example of the escalating horror and murder in the country".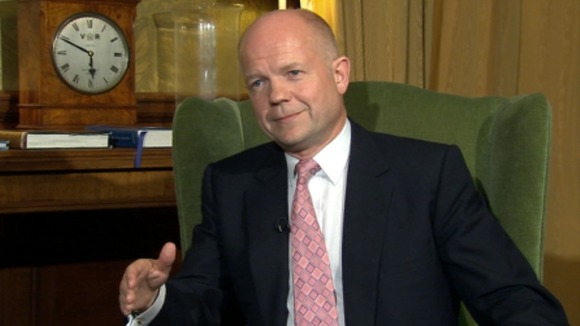 The United Nations says it has been unable to reach the site of the latest alleged Syria killings, despite local TV reports saying they had arrived.
Their mission has been obstructed by three factors. The first, we've been stopped at Syrian Army checkpoints and at some points turned back. The second is that we were stopped by civilians in the area. They stopped our cars from proceeding going forward. The third is that we got information and phone calls from residents in the area saying that the security of our observers is at risk. So until now we have not been able to enter, but despite these challenges, our observers are still working on getting into the village.
– UNITED NATIONS SUPERVISION MISSION IN SYRIA

Opposition activists claim around 80 people, including more than 20 children and 20 women have been killed by pro-government forces. In response the regime says rebels were responsible for the killings.

The exact circumstances of the violence have not been confirmed independently but reports say it took place in the villages of Qubair and Maarzaf.

There are also conflicting reports about the alleged death toll.

WARNING: You may find some of the images in Paul Davies' report, below, disturbing:

One activist in Hama told the BBC's World Tonight:
"They executed [nearly] every person in the village. Very few numbers could flee. They majority were slaughtered with knives and in a horrible and ugly way."

"[They] are failing to save the lives of the wounded because they are very poor people - usually they are Bedouin who... have no kind of healthcare.

"The small number of villagers who fled were the only people remaining who could tell the world about this horrible massacre."
– Syrian activist in Hama

Prime Minister David Cameron condemned the massacre and said, if the reports are true, it illustrates the Assad regime is "completely illegitimate and cannot stand".

US Secretary of State Hilary Clinton also condemned the "regime-sponsored" violence. Speaking in Instanbul, she stated it was time for the international community to unite around a plan for "post-Assad Syria".

Amateur videos have been posted on social networking websites which purportedly show the aftermath of the attack.

One of them shows footage of a burnt out building and the charred remains of human bodies.

However it cannot be independently verified.

Further amateur video also emerged purporting to show protests on the streets of Syria following reports of the massacre. ITV News is unable to independently verify the footage.

Rami Abdul-Rahman, the head of the British-based Syrian Observatory for Human Rights, says he has gathered the names of 23 people killed in shelling and other attacks.

But the Local Co-ordination Committees, an activist group, said at least 78 were dead.

Mr Abdul-Rahman called on United Nations observers to visit the area immediately.

He said: "Do not wait until tomorrow in order to investigate this latest massacre."

Meanwhile, ministers and high-level envoys from 15 countries and the European Union have agreed to convene a "coordination group" to provide support to the Syrian opposition.

At a meeting, Mrs Clinton and ministers and high-level envoys from Turkey and European and Arab states discussed "additional steps" including coordination on an "effective and credible transition process" to lead to a "democratic, post-Assad Syria".