Kylie and Jason reunite for London duet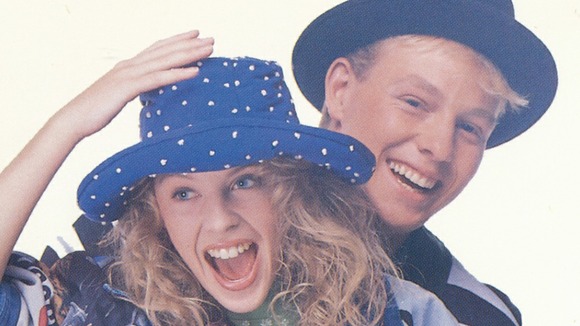 Kylie Minogue and Jason Donovan are to reunite for a special performance of their classic duet Especially For You next month in London's Hyde Park.
The song famously featured in the marriage of Scott (played by Jason Donovan) and Charlene (played by Kylie Minogue) in Australian soap opera Neighbours. Donovan and Minogue were a couple in real life at the time.
Kylie told Glamour magazine that they will reunite to sing the song at the Hit Factory Live on July 11. She said:
I'm going to sing Especially For You with Jason Donovan. I don't think we'll even need to sing it. I'm sure the audience all went through the Neighbours wedding. It's going to bring the house down. Even though it's outdoors.
In the unlikely event you have forgotten any of the words, here it is:
The concert organisers made the announcement on twitter:
Other artists to perform include Steps, Bananarama, Rick Astley, Ray and Anita from 2-Unlimited, and Sinitta.
Especially For You is likely to be the biggest draw of the event. The song was written and produced by UK trio Stock, Aitken and Waterman, who also wrote Kylie's I Should Be So Lucky in 1987. The song was recorded in just ten hours, as Donovan recalled:
We didn't actually sing the duet together. We had to learn the song very quickly and recorded our parts separately.
When Waterman first heard the song, he said he initially hated it:
When I heard the finished version, I hated it. It had absolutely no passion. Mike hated it and everybody I played it to in the office hated it. But it was going to be a smash hit because of who was singing it. Somehow it came together at the last moment'
The song was originally released in November 1988. It remained at number two for four weeks during Christmas and was number one for three weeks in early 1989, selling just less than a million copies.