Two remain in custody after Walsall shooting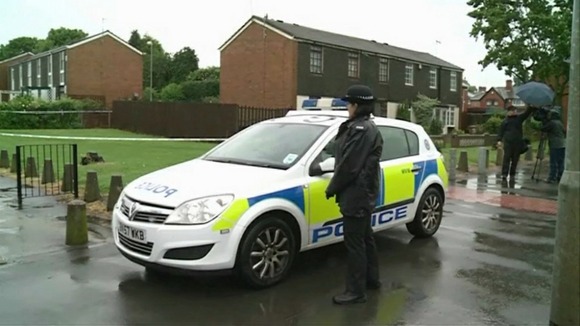 Police are continuing to question two people arrested in connection with a double shooting in which a mother-of-three was gunned down in her own home in an apparent domestic incident.
The woman, named locally as Clare Sly, and a man, believed to be her partner, were shot dead at the house in Laneside Gardens, Walsall, in the early hours of Friday morning.
Two people - a 23-year-old man and a 22-year-old woman - have been arrested. West Midlands Police confirmed that the man in custody was related to one of the dead.
Neighbour Carol Robinson, who has lived in the area for 43 years, said Miss Sly worked at a local primary school and had three sons - one in his early 20s and two around 10 years old.
I heard it was Clare and her partner who were killed. I can't believe it, she is gorgeous and a lovely mum.The two young boys are so well-behaved and polite. They are a lovely little family and quite quiet, they have never caused any trouble or anything. Clare was born here, her mum lives opposite.It was such a shock to us when we woke up this morning.
– Neighbour Carol Robinson
They seem like a nice family, they have been here for about three years renting the house. The eldest boy and his girlfriend had been living with his gran on the other side, I believe.

It's a shock, this is a quiet area.
– Ralph Hughes

Neighbours said Miss Sly was a teaching assistant. The other victim was 43.

A police spokesman said that all four people involved were known to each other. Speaking to reporters at the scene of the killings in the Birchalls area of the town, Superintendent Keith Fraser said detectives were treating the shooting as an isolated incident and stressed that there was no need for the local community to be concerned for their safety.
I can confirm that the people arrested are connected to the victims, I can confirm that they are related to them.I don't want to go into details at the moment but I can confirm they are related and connected.
– Superintendent Keith Fraser

Mr Fraser said the arrests were made "in the locality" and within an hour of emergency services arriving at the scene shortly after 1.30am. A gun was recovered from the house where the victims were found.
What I would like to do is reassure the public that the force is committed to finding out what happened.We have got a dedicated team of detectives who are here dealing with this matter and were swiftly assigned to finding out what happened. Also there will be local officers in the area working to reassure the local community.At this moment in time our thoughts are going to be with the family and our thoughts should be with the family, but I don't underestimate the impact that this could have, and will have, on the local community.
– Superintendent Keith Fraser

Police officers, PCSOs and forensic experts were at the end-terrace house throughout the day and the cul-de-sac remained cordoned off last night.Officers could also be seen at a second house opposite the murder scene, which neighbours said was the home of Miss Sly's elderly mother.

More information can be found on ITV Central's news pages.