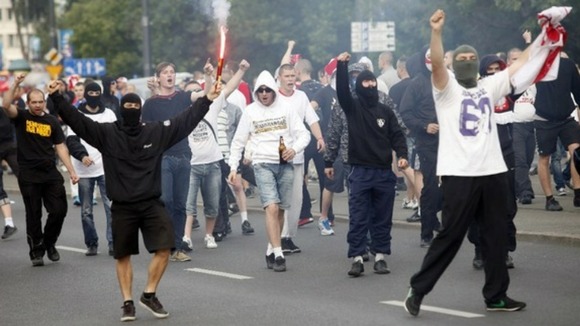 Police in Warsaw have made over 140 arrests relating to clashes between Poland and Russia fans and expect to add to that number as investigations continue.
At least 10 people were injured in the attacks and the police were forced to use rubber bullets, tear gas and water cannons to stem the violence.
There are more than 140 hooligans caught by the police because of disorders in Warsaw - firstly during the march to National Stadion, secondly in the Fanzone in Plac Defilad Square.

Among the kept persons there are fans of both teams - Russian and Polish. There are 10 persons, who are injured: 7 Polish, 2 Russians and 1 German - their lives are not in danger concerning the information from the medical services.

The police operation is still lasting. The police officers are checking the surveillance system, police cameras and still (plan to) identify the hooligans who took part in the disorders. Further arrests are planned."
– Polish Police

ITV's Europe Correspondent Martin Geissler reports from Warsaw:

Incidents on the Poniatowski Bridge in the capital, and in the Fanzone in Plac Defilad Square, were reported to have accounted for the majority of the arrests, with Polish police indicating the numbers were likely to continue to rise.

In a statement, the force confirmed 10 people were injured - seven Polish, two Russians and one German - but cited medical agencies in claiming none of the injuries were believed to be life-threatening.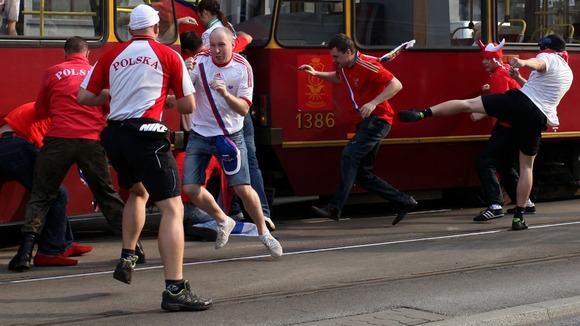 Trouble flared despite an unprecedented security operation in the Polish capital, and although the game appeared to pass largely without incident, there were fears of further trouble as fans began to depart from the stadium.
We are still monitoring the situation and trying to identify the supporters involved. The operation is not over from our side as we continue in our attempts to catch those who are causing trouble.
– Warsaw police spokesperson speaking to Press Association Sport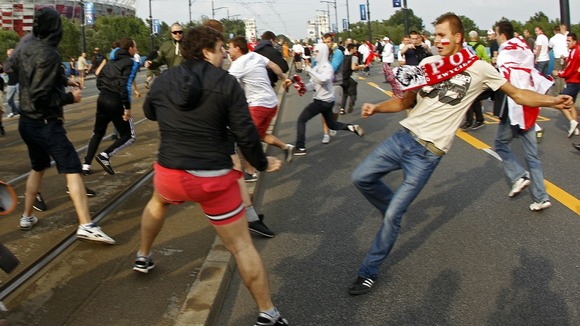 Thousands of Russian fans had marched towards the National Stadium to mark Russia Day, considered a provocative gesture by some Poles whose nation was subjected to decades of rule by Moscow during the Cold War.
Television footage showed fans running away from exploding flares and fireworks on the city streets in Poland, after the march was abandoned.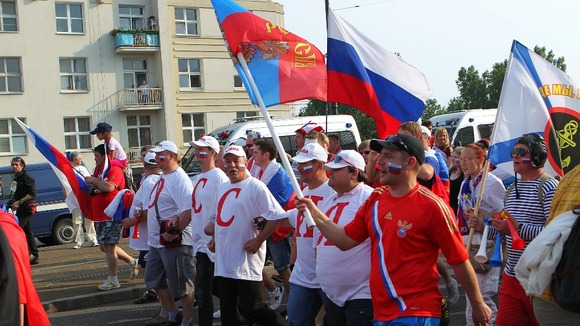 The trouble is the latest blight on the co-hosted tournament, with UEFA already indicating they will launch investigations into allegations of racist chanting in games involving Spain and Italy, and Russia and the Czech Republic.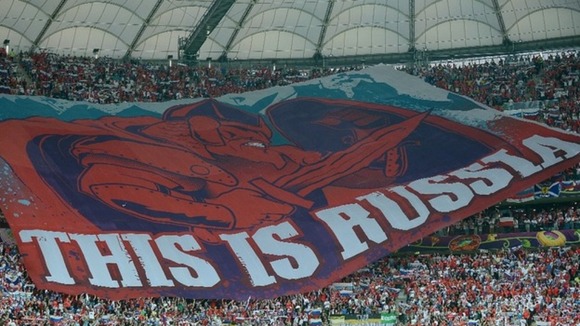 Prior to the tournament, some Dutch squad members complained of hearing racist abuse during a training session at Wisla Krakow's stadium.