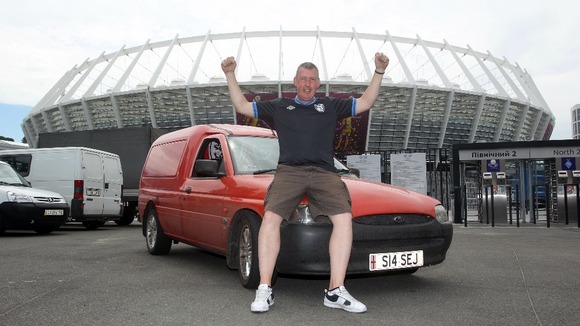 An England supporter has driven his battered red van all the way to Ukraine to follow the Three Lions at Euro 2012.
Andrew Jolly, 45, drove from his home in Dunstable, Bedfordshire, to Donetsk - where England played their first Group D match against France - clocking up an impressive 3,000 miles on the four day trip.
If Roy Hodgson's side get to the European Championship final on July 1 he could end up driving over 6,000 miles in total.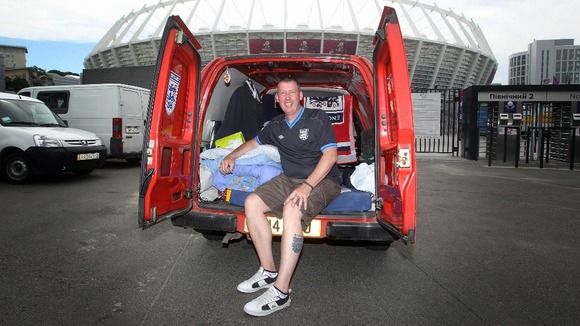 Mr Jolly took the Eurotunnel to Calais before passing through France, Belgium, Germany, Czech Republic, Slovakia and across Ukraine, sleeping in the van most nights.
He said the eastern European leg of his trip was the worst, after being sold watered-down fuel, damaging his van's suspension by driving over giant potholes and having a wheel fall off.
It was okay until Slovakia.

That was like going back 60 years. Some of the potholes were six feet wide and one foot deep.

I also got fined by the police because I didn't realise you have to have your headlights on all the time.
The married father-of-fourwas left with a £120 repair bill after buying fuel that contained water, which prevented his van from starting and his spare wheel fell off when he was in Kiev. Fortunately it was picked up by an onlooking hotel porter who shouted at him to stop.
I like the freedom of seeing a place. I've not just experienced Donetsk and Kiev, I've seen the whole country.

It's been an experience but I wouldn't want to do it again. Driving to the tournaments in Germany and Portugal was a lot easier. The van isn't in good shape now.